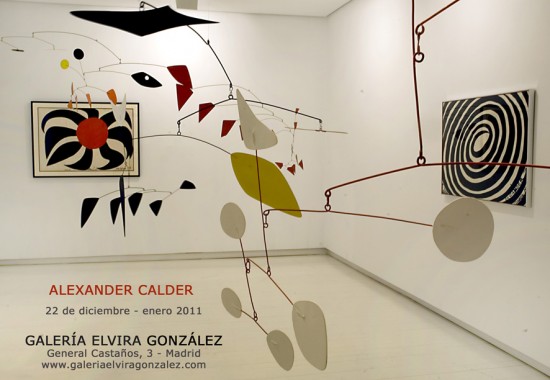 Posted: 14 January 2011
Comments: No comments
Cultural recommendation for the week
Exhibition "Alexander Calder: Mobiles, Stabiles and Gouache"
"It is the first individual exhibition held at the Elvira González Gallery of the North American artist. In it you can see both his well-known mobiles and gouaches, steel wire figures and jewelry. "
Extracted from The Cultural.
See also:
http://www.galeriaelviragonzalez.com/
http://es.wikipedia.org/wiki/Alexander_Calder
—
Dates: from December 22 to January 31.
Place: Elvira González Gallery (General Castaños, 3. Madrid).
Hours: Monday to Friday from 10:30 a.m. to 14:00 p.m. and from 16:30 p.m. to 20:30 p.m. Saturdays from 11 a.m. to 14 p.m.
Price: Free entry.