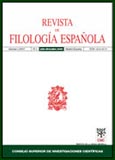 Posted: 26 January 2011
Comments: No comments
New number received from: JOURNAL OF SPANISH PHILOLOGY (vol. XC, nº2. July-December 2010)
Summary of this issue:
*A debt in Gonzalo de Céspedes y Meneses: the vitality of the Byzantine model in The Pilgrim and Exemplary Stories. Julian Gonzalez-Barrera.
*Aragonese, Navarrese and Basque in the idiomatic characterization of Vidal Mayor. Fernando Gonzalez Olle.
*A new and fragmentary version of the romance in a probatio calami. Cleofé Tato.
NOTE:
*Petrarch and the admiral of Castillas: about Boscán. Welcome Morros Mestres
OBITUARY
*Francisco Lopez Estrada (1918-2010) Angel Gomez Moreno
*Bibliographic notes
*Abstracts
*Books received
*RFE regulations
Previous summaries in Dialnet.
See also magazine website.