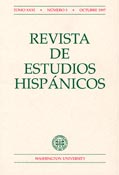 Posted: 7 February, 2011
Comments: No comments
New issue received from: JOURNAL OF HISPANIC STUDIES (Volume XLIV, No. 3. OCTOBER 2010)
Summary of this issue:
CONTENTS
CONSTITUTIONAL SPAIN: DEMOCRACY AND CULTURE, 1978-2008. edited by Sylvia Bermudez
*To be (a Part) of a WHOLW: Constitutional Patriotism and the Paradox of Democracy in the Wake of the Spanish Constitution of 1978. Brad Epps.
* Feminist vindication (1979-79): Humor and disenchantment in the women's movement of the Transition. Rosalia Cornejo Parriego
*Feather guns: The constitutional crisis of 23-F and the hysterical memory of Eduardo Mendicutti. Joseph Colmeiro
*The Concept of Gender Equality in constitutional Spain. Roberta Johnson
*Consuming Nationalism? Taste, Language, and the novel in Constitutional Galicia. Kirsty Hopper
*Victim Discourse, Victim Studies, and the Biopolitics of Counter-Terrorism: The case of Iñaki de Juana Chaos. justin crumbaugh
REVIEW ARTICLE
*Of Mandarins, lawyers and critics: the intellectual work in/on Latin America. Ana del Sarto
Previous summaries in Dialnet.
See also page magazine website.
See available numbers in the International Institute Library.