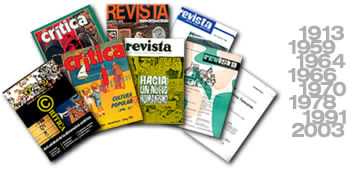 Posted: 25 February, 2011
Comments: No comments
New number received from: Crítica (year LIXI, nº971. January-February 2011)
Summary of this issue:
EDITORIAL
*The power. Manuel Aguilera
FROM MONTH TO MONTH. Nevis Saint Martin
NEWS
* The new abortion law: "Right" and inequality. Salomé Adroher Biosca, Ana Berástegui Pedro-Viejo, Blanca Gómez Bengoechea
MONOGRAPHIC
* The butterfly effect: power, desire, responsibility. Xavier Quinzá Lleo
*Power and resistances. Carmen Gonzalez Marin
*Ideas and power: some brushstrokes about our present. Rocio Orsi
* The origin of power and democracy as a limit. Mª Dolores Oller Room
* The power of political parties. Abel B. Veiga Copo
*The various faces of economic power. Pedro Jose Gomez Serrano
*A difficult relationship: women and power. Consuelo Garcia Arrow
*Educating for participation: utopia or reality?. carmen lopis
* Communication and power. The means of social communication before a new communication. Norbert Alcover
OPINION
*Power sources. jesus labrador
*Wanting is power? Tusta Aguilar
*The authority of the teacher. Immaculate Egido Galvez
*Power in the classroom. Monica Jimenez Dry
*Microphysics of power in the Church: the case of Olympia (360-410). Ferdinand Rivas
*Personification of power as a multifaceted reality from labor mythology and the crisis. Angelo Valastro Canale
*Metaliterary reception of a life under the pressure of power: Jordi Sierra and Franz Kafka. Maria Angeles Suz Ruiz
USEFUL ADDRESSES. Esther Gonzalez.
COORDINATES
*Legal review of the principle of authority in the participation and government bodies of the concerted centers. Louis Centeno Knight
REPORTAGE
*Who commands here? On the distribution of power in the family. Virginia Fernandez Aguinaco
DECALOGUE
* They are the things of power. Joaquin Suarez Bautista
TO KNOW MORE
SOCIETY
*When dance heals the body and spirit. Ranjita Biswas
CULTURE AND FAITH: GLITTER TITANIUM
*An experiential question. Norbert Alcover
BOOKS
*With the heart in the hand. Chris Cleave. Mary Simon.
*Protagonists of religion class. Sociological approach. Charles Stephen. carmen lopis
*Competent in religion. Proposals and activities to improve Religion classes. Carlos Esteban and Ruben Prieto. carmen lopis
*You will never know what Baghdad smells like. Martha Tafalla. Virginia Fernandez Aguinaco.
THEATRE
*The Miserables. Xavier Lopez.
*Promises kept. Maria Jesus Ramos.
CINEMATOGRAPHY
*The king's speech. Of gods and men. Cecilia Garcia
TV
*The Republic. Virginia Fernandez
ART
*The MACBA museum in Barcelona, ​​an unmissable date with contemporary art. Francisco Vincent Galdon
See also magazine website