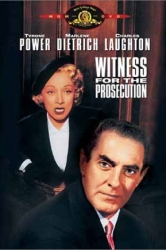 Posted: 5 April 2011
Comments: No comments
Featured news of the week
"Witness for the Prosecution" directed by Billy Wilder
"An unbeatable plot framework written for the stage by Agatha Christie and a warm, witty character description by Billy Wilder gave birth to 1958's Witness for the Prosecution, a classic thriller with the genius of a master. of comedy."
Taken from The country.
See also:
http://www.filmaffinity.com/es/film667376.html
http://es.wikipedia.org/wiki/Testigo_de_cargo_(pel%C3%ADcula)
http://www.imdb.com/title/tt0051201/
The recommended titles are in the Library of the International Institute. If you are interested in reading this recommendation, you can check its availability at catalog of the library
Witness for the prosecution: [Witness for the prosecution]. [DVD] / screenplay by Billy Wilder and Harry Kurnitz ; directed by Billy Wilder; produced by Arthur Hornblow. — Madrid: MGM Home Entertainment, cop. 2004. — 1 disc (DVD) (112 min.) : son. bl. and n.
Languages: Spanish, English, French, German, Italian
Based on the story and play by Agatha Christie
Tyrone Power, Marlene Dietrich, Charles Laughton
Authorized for all audiences
ZW .W55 W518 1957