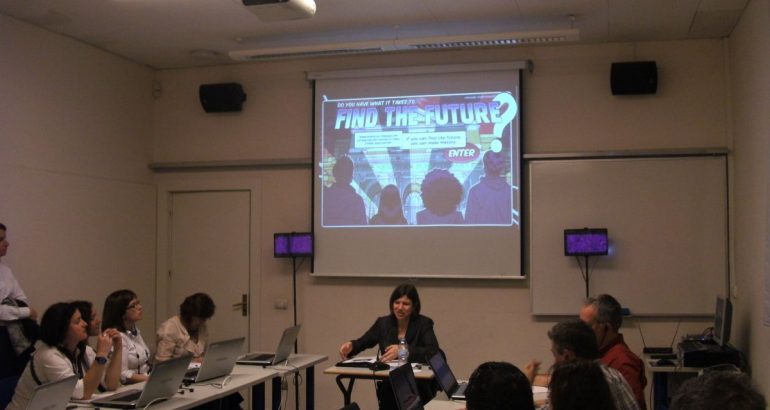 Posted: 5 April 2011
Comments: No comments
Summary of Laura Kaspari Hohmann's conference on "The use of games for teaching skills in information literacy"
On Monday, April 4, we had the opportunity to have Laura Kaspari at the International Institute to get closer to the use of games for teaching information literacy skills.
Laura Kaspari Hohmann is Director of the Documentation Centers of the US Embassies in the Mediterranean. Although she currently resides in Rome to be able to develop her work in southern Europe, she is originally from Colorado from whose university she received her Bachelor of Business Administration degree, training to which she adds a Master's degree in Library and Information Services from the University of Denver. . Before joining the US Embassy service, she worked in different academic libraries.
The conference began with a review in figures of the profile of the gaming habits of young people and adults in the United States that allowed us to verify the importance that games have and will have in the future. After analyzing the reasons why they should be present in libraries, we were shown arguments why they can be useful in information literacy, differentiating their presentation between board games and video games.
He went on to describe to us the value of the pedagogical use of some of the most popular board games in the United States by relating them to the Standards for Learning in the Twenty-first Century established by the American Association of School Libraries (AASL).
In the same way we were able to get to know the popular video game better "World of Warcraftdrawing parallels between its attributes and the Information Literacy Standards of the American Association of Research Libraries to demonstrate the educational value of video games through the analysis of a specific case.
The communication concluded by highlighting the importance of creating games in libraries, recommending us to follow the new game of the New York Public Library "Find the Future at the New York Public Library Game" which has been released recently.
Among those attending the conference there were students, professors and professionals from university, public and specialized libraries, a variety that became evident in the final part dedicated to debate and that Laura tried to take into account in the development of her presentation.
We thank Laura Kaspari for allowing us to make her presentation accessible for this conference: (Games in Libraries Spain without notes).
We also thank Mónica Pareja and Maria Jesús del Olmo from the Information Resources Center of the United States Embassy in Spain for their collaboration in organizing this activity.