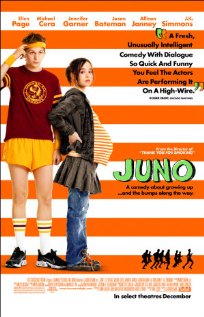 Posted: 12 May 2011
Comments: No comments
The collection in use
"Juno" a movie Jason Reitman
"Juno (Ellen Page) is a Minnesota teenager who is sharp as a dagger and lives by her own rules. A typically dull afternoon turns into the exact opposite when Juno decides to have sex with the charmingly unassuming Bleeker (Michael Cera). Facing an unplanned pregnancy, she and her best friend Leah (Olivia Thirlby) hatch a plan to find the baby the perfect pair of parents.
Extracted from the back cover.
See also:
http://www.imdb.com/title/tt0467406/
http://www.labutaca.net/films/58/juno.php
http://en.wikipedia.org/wiki/Jason_Reitman
The selected titles are a sample of the recently loaned International Institute Library materials.
If you are interested in seeing or reading this recommendation, you can check its availability in the IIE library catalog.
Juno. [DVD] / a Jason Reitman film. — Madrid: Twentieth Century Fox, DL 2008. — 1 DVD (92 min.): son., col.
Languages: English, Spanish, German; Subtitles: English, Spanish…etc.
Ellen Page, Michael Cera, Jennifer Garner
Not recommended for children under 13 years
DL M 11189-2008
ZW .R449 J8618 2007
R. 97417