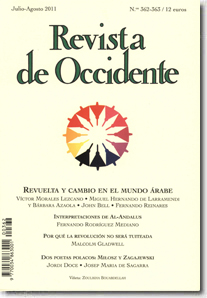 Posted: September 7, 2011
Comments: No comments
New number received from: REVISTA DE OCCIDENTE (No. 362-363. July-August 2011)
Summary of this issue:
*A century of Arab revolts: similarities and differences. Victor Morales Lezcano
*Citizen protests and changes in the Arab world. Miguel Hernando de Larramendi and Barbara Azaola
* The virtues of the Arab awakening. John Bell
*Political instability and terrorist threats in the Arab world. Ferdinand Reinares
TEST
*Al-Andalus, Spain and the existence of cultures. Fernando Rodriguez Medium
*Ethics and aesthetics of the Mediterranean. Clara Janes
* Spanish banditry: a lost literary genre. Ferdinand Arias
* Raphael's powers. Vincent Molina Foix
SOCIAL MEDIA
*A small change: why the revolution will not be tweeted. Malcolm Gladwell
CENTENARY
*Waiting for Cantinflas. Ricardo Bada
POLISH POETRY
*Czeslaw Milosz: materialism of the believer. jordi twelve
*Interview with Adam Zagajewski. Josep Maria de Sagarra
*Five poems. Adam
BOOKS
*Turgot and the French Revolution. Luis Arranz
*The ideal of consensus. Julio Crespo MacLennan
Previous summaries in Dialnet.
See also page magazine website.
See available numbers in the library.