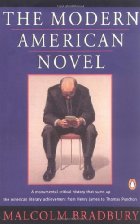 Posted: September 13, 2011
Comments: No comments
The collection in use
"The Modern American Novel" by Malcolm Bradbury
"An updated study of American literary tradition traces the development of the American novel from James and Dreiser, through the works of Faulkner and Hemingway, to the emergence of Jewish- and African-American authors, and the work of avant-garde writers including Pynchon and Vonnegut."
Taken from Google Books.
See also:
http://www.malcolmbradbury.com/
http://www.nytimes.com/books/01/04/01/specials/bradbury.html
http://www.pbs.org/wnet/americannovel/resources.html
http://en.wikipedia.org/wiki/Malcolm_Bradbury
The selected titles are a sample of the recently loaned International Institute Library materials.
If you are interested in seeing or reading this recommendation, you can check its availability in the IIE library catalog.
Bradbury, Malcolm (1932-)
The modern American novel / Malcolm Bradbury. — Oxford [etc.] : Oxford University Press, 1984. — 209 p. ; 20cm — (An Opus Book).
ISBN-0 19-289044-1
PS 379.B73 1984
R. 55978