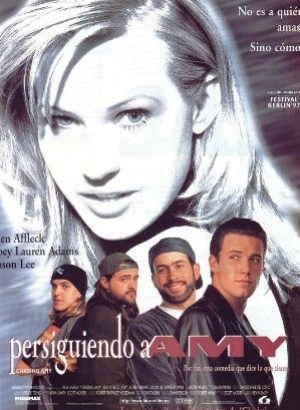 Posted: 12 June, 2012
Comments: No comments
The collection in use
"Chasing Amy" written and directed by Kevin Smith
"Holden McNell and his best friend, Banky Edwards, are enjoying the success of their latest creation, the cult comic 'Bluntman and Chronic.' When they meet fellow comic book creator Alyssa Jones, Holden is immediately drawn to her. Alyssa, however, has her romantic options pointing in another direction, so she prefers that she and Holden are just friends. He is faced with a dilemma: feeling what he feels for her, can they just be friends with her? Banky, who knows her perfectly, has the answer: no way."
Taken from fnac.
See also:
http://www.filmaffinity.com/es/film744699.html
http://www.imdb.com/title/tt0118842
http://es.wikipedia.org/wiki/Persiguiendo_a_Amy
http://www.miradas.net/0204/cults/2002/0206_chasingamy2.htm
The selected titles are a sample of the recently loaned International Institute Library materials.
If you are interested in seeing or reading this recommendation, you can check its availability in the IIE library catalog.
Chasing Amy. [DVD] / written and directed by Kevin Smith. — Barcelona: Miramax, DL 2011. — 1 DVD (115 min.): son., col.
Languages: Spanish; subtitle: english, spanish
Ben AffleckJoey Lauren AdamsJason Lee
Not recommended for children under 13 years
DL B 38292-2011 — 122.531
ZW .S65 C43 1997
R.79313/1