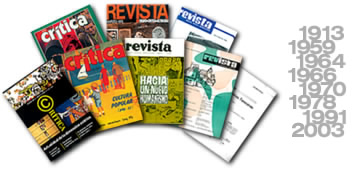 Posted: 22 June, 2012
Comments: No comments
New number received from: CRITICA (year LXI, nº 979. May-June)
Summary of this issue
Editorial
* What is a Constitution for? Manuela Aguilera
from month to month
*Nevis Saint Martin
Monographic
Analysis
*The meaning of the Constitution and the possibilities of reform. Maria Isabel Alvarez Velez.
* What is a Constitution for? Federico de Montalvo Jääskeläinen.
*The image of Spain before and after the Constitution. Blanca Sáez de Santa María Gómez-Mampaso.
*Civil society and political commitment. Alberto Priego.
*Women and the Spanish Constitution. Maria Luisa Balaguer.
*The right to education in the Spanish Constitution. Belen Urosa Sanz.
*The right to work in the Spanish Constitution. Maria Jose Lopez Alvarez.
*Challenges of the autonomic model of the Constitution of 1978. Clara Martínez García.
Our Approach
*The protection of health in a commercial context. Luis PalomoCobos.
*Church and religion in the Spanish constitutions. Juan Maria Laboa
*The Constitutional Court. The guardian of the constitution. Rafael de Mendizabal Allende.
useful addresses
Esther Gonzalez
coordinates
*The origin of the Constitutional regime: The Constitution of Cádiz of 1812. Mª Valentina Gómez-Mampaso
*History of the Spanish Constitutions. Virginia Fernandez Aguinaco.
teaching experience
*The Spanish Constitutions, a view from education. carmen lopis
Decalogue
*Joaquin Suarez Bautista
Read more
Culture
Books
*The last meeting. Sandor Marai. Mary Simon.
* Older people. Approach to a reality. Rosario Paniagua Fernández. L-R
*Juan Cobos Redondo and the diary of the expedition to Salinas. Brown Cat Purification. Juan Jose Montes.
Theater
*Exchange and the history of Spain in 70 minutes. Xavier Lopez.
* Hopes for the losers?. Reflections in times of crisis. Maria Jesus Ramos.
Movies
*Dark Shadows. Children of the clouds Cecilia Garcia.
Culture and faith. shimmering titanium
* Women for others. Norbert Alcover
TV
*Verbal formulas to use and sadness. Virginia Fernandez
Art
*The Andalusian Center for Contemporary Art, (CCAAC) a multicultural space. Francisco Vicente Galdon.
See available numbers in the library.