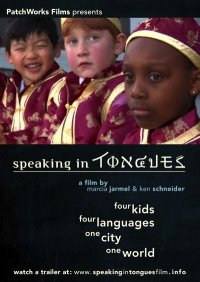 Posted: 28 June, 2012
Comments: No comments
Featured news of the week
"Speaking in tongues" directed by Marcia Jarmel & Ken Schneider
"In A time where 31 states have passed English Only initiatives, one urban school district explored the provocative notion that speaking a foreign language can be a national asset. We follow four diverse students and their families as they encounter the challenges and delights of becoming fluent in two languags. As we witness their journey we see how speaking more than one language changes them, their families, their communities and maybe even the world."
Taken from documentaries.org.
See also:
http://speakingintonguesfilm.info/the-film/team/
http://www.telegraph21.com/video/speaking-in-tongues-0
http://www.colorincolorado.org/multimedia/experts/podcasts/schneider/
The recommended titles are in the Library of the International Institute. If you are interested in reading this recommendation, you can check its availability at catalog of the library
Speaking in tongues. [DVD] / a film by Marcia Jarmel & Ken Schneider. — [San Francisco]: PatchWorks Productions, cop. 2010. — 1 DVD (60 min.): Son. cabbage.
English language
Authorized for all audiences
DL M-53780-2007
R. 99177