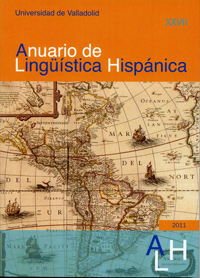 Posted: 6 February, 2013
Comments: No comments
New number received from: Anuario de la Lingüística Hispánica (Volume XXVII – 2011)
Summary of this issue:
CONTENTS
BIOLOGY AND LANGUAGE: PAST, PRESENT AND FUTURE OF AN OBLIGATED RELATIONSHIP. Biology and Language: Past, Present, and Future of a Compulsory Relation
Antonio BENITEZ-BURRACO
RERA. HISTORY OF A WORD. Rera: History of a Word
Jose FRADEJAS LEBRERO (†)
ARABIC LOVE POETRY AND ITS INFLUENCE IN AL-ANDALUS Arabic Love Poetry in Al-Andalus
Sea GOMEZ RENAU
THE SPANISH AMERICAN IN THE ARCHIVES OF THE INQUISITION: NEW SPAIN 1527–1635
New World Spanish in the Inquisition Archives: New Spain 1527–1635
Daisy Hidalgo
ON THE ORIGIN, SENSE AND TRANSCENDENCE OF THE HISTORY OF THE SPANISH LANGUAGE (1942-1981) BY RAFAEL LAPESA On the origins, sense and significance of Rafael Lapesa's
History of the Spanish Language (1942-1981)
Mª Antonia MARTIN ZORRAQUINO
NEW HYPOTHESIS ON THE ORIGIN OF THE MEDIEVAL ADVERB M(I)ENTRE
New Hypothesis on the Origin of Old Spanish Adverb while
JAVIER MORA GARCIA
THE QUECHUA LANGUAGE, AN IRREPLACEABLE REFERENCE IN THE LIFE AND WORK OF JOSÉ MARÍA ARGUEDAS
The Quechua Language: An Unavoidable Referent in the Life and Works of José María Arguedas
Silvia LAFUENTE
REVIEWS
Previous summaries in Dialnet.
See also magazine website.
See numbers available in the Library of the International Institute.