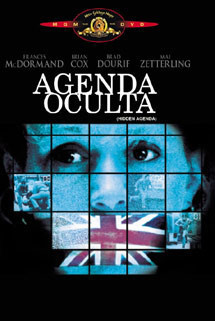 Posted: 20 June, 2013
Comments: No comments
Featured news of the week
"Hidden Agenda" directed by Ken Loach
"Paul Sullivan and Ingrid Jessner, two American human rights lawyers, are in Belfast investigating how IRA prisoners are treated. When they receive compromising information for the Thatcher Government, Paul is assassinated and, in addition, a tape with highly secret information disappears. The inspector in charge of the case, the Englishman Kerrigan, will collaborate with Ingrid to investigate the facts"
Taken from Filmaffinity
See also:
http://www.imdb.com/title/tt0099768/
http://misteriosoobjetoalmediodia.wordpress.com/2007/10/05/5/
The recommended titles are in the Library of the International Institute. If you are interested in having access to them, you can check their availability in the catalog of the library
Agenda Oculta [DVD] = Hidden agenda / director Ken Loach. — Twentieth Century Fox Home Entertainment Spain, 2003.
1 DVD (104 min.): son., col.
Not recommended for children under 13 years.
ZW .L63 H53 1990