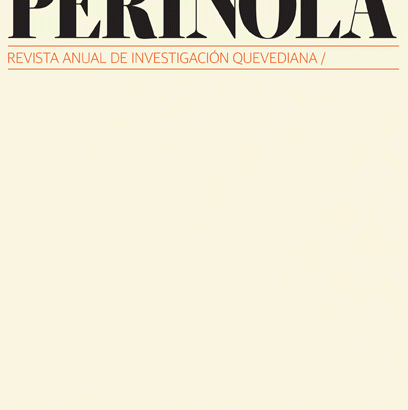 Posted: 24 July 2013
Comments: No comments
New number received from: LA PERINOLA: Quevediana research magazine (nº 17. 2013)
Summary of this issue:
STUDIES
Julio Velez Sainz
«The critical reception of Quevedo's theatre: some considerations»
Antonio Sanchez Jimenez,
Quevedo and Lope (poetry and theater) in 1609: patriotism and national construction in La España defended and La Jerusalem conquered
Ignatius Arellano
«About the text of the comedy How the private has to be, by Quevedo. Deturpaciones and amendments»
Rafael Iglesias placeholder image
«Francisco de Quevedo as practitioner of defensive dissimulation in How the private should be and El chitón de las tarabillas
Frederick of Arms,
«Contrary winds: storms of passion and power in How the private should be»
Luciana Gentilli,
«The dramatization of an ars gubernandi: How Francisco de Quevedo's private should be»
Paul Restrepo Gautier
«Beyond the parodic inversion: the critique of the cape-and-dagger genre and the drama of honor in the interlude of El marión de Quevedo»
Abraham Madronal,
«Again on the authorship of Los refranes del viejo jealouso, entremés attributed to Quevedo»
Francisco Saez Raposo
«Between old dances and new dances: Francisco de Quevedo's imprint on the evolution of dramatic dance»
VARIA
Maria Jose Alonso Veloso
«News about an Italian translation of Doctrina Moral»
Maria Luisa Lobato
«Maladros 'founding father' of Germania: literary presence and edition of the unpublished interlude The braves of Juan Vélez de Guevara»
Valentina Nider,
«The annotations that sees targets to the Catecheses of Saint Cyril of Jerusalem»
Alfonso King,
«On the loving thought of Quevedo»
Maria Jose Tobar Quintanar,
«The authority of the Spanish Parnassus and the three last Castilian muses: editorial criteria for Quevedo's poetry»
Previous summaries in Dialnet.
See also magazine website.
See numbers available in the Library of the International Institute.