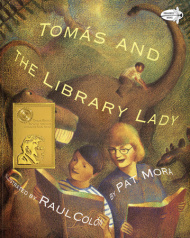 Posted: November 24, 2014
Comments: No comments
Novelties in the library: "Tomás and the library lady" by Pat Mora and Raúl Colón
"Tomás is a son of migrant workers. Every summer he and his family follow the crops north from Texas to Iowa, spending long, arduous days in the fields. At night they gather around to hear Grandfather's wonderful stories. But before long, Tomás knows all the stories by heart. "There are more stories in the library," Papa Grande tells him. The very next day, Tomás meets the library lady and a whole new world opens up for him."
Taken from Amazon.
See also:
http://www.patmora.com/books/tomas-and-the-library-lady/
http://childrensbooks.about.com/od/productreviews/fr/tomas_library.htm
http://www.goodreads.com/book/show/1372657.Tomas_and_the_Library_Lady
The recommended titles are in the Library of the International Institute. If you are interested in having access to them, you can check their availability in the library catalog.
Tomás and the library lady [Printed text] / Pat Mora ; Illustrated by Raúl Colón. — New York: Dragonfly Books, cop. 1997.
1 vs. (no page) : ill. ; 26cm
ISBN 978-0-375-80349-9
PZ7 .M667 T66 1997
201166238