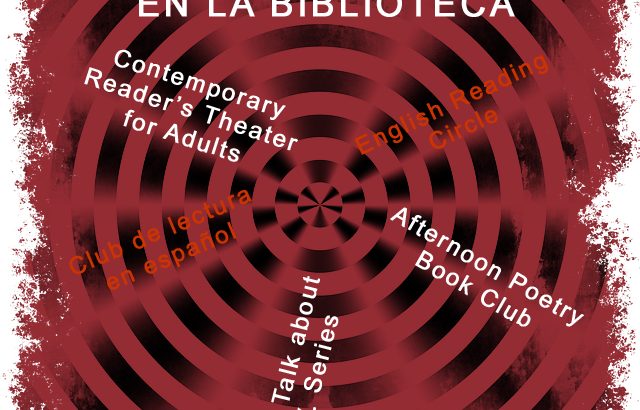 Posted: 6 February, 2015
Comments: No comments
NEW FREE ENGLISH ACTIVITIES AT THE LIBRARY
With the support of American Space Madrid The library of the International Institute launches this February three new activities in English for adults. Like all those organized from the library, they will be more playful and informal and less regular than the English classes offered by the Institute since its inception. American Language and Culture Program.
The activities will take place in the afternoon at different times and on different days of the week to try to favor their adaptation to the schedules of those interested. All three seek to offer a better understanding of American culture and have different objectives and dynamics.
To carry them out we will have some of the teachers of the International Institute and collaborators of the activities that we already carry out in the library. All of them, due to their training and experience, have ample aptitude to carry out the sessions as facilitators.
Although they are designed to be held once a month, in this first stage of launch after the inaugural session in February we will hold two sessions of each in the months of March and April. The dates will be detailed in the agenda for the corresponding month.
The activities are:
Let's Talk about TV Series:
Based on a selection of scenes from American television series, cultural themes and values ​​will be analyzed and a debate will be established, with the intention of bringing us closer to the different aspects of American life.
The series we will start with is "This American Life". This interesting series arises as an extension of the well-known radio program of the same name and focuses each chapter on different stories around the same theme. Almost all of them are true stories of ordinary people.
Participation will require an upper-intermediate level of English or higher.
Caroline Lofting, a professor at the Institute and a graduate in humanities, will moderate these sessions, which will take place one Monday a month from 20:21 p.m. to XNUMX:XNUMX p.m.
Contemporary Reader's Theater for Adults:
The library is already successfully carrying out dramatized readings in English for children between the ages of 9 and 12. As an activity, it turns out to be a complete and fun work of reading and listening, which we are sure will be equally appealing for the older ones. Starting from short theater, radio and cinema scripts or themes to improvise, the participants will read, analyze and interpret the texts. Participation will require an upper-intermediate level of English or higher.
The ones in charge of promoting this activity will be Trisha Ballsrud and Carrie Szczerbik, both actresses, English teachers and "storytellers" of our "Library Storytelling Morning".
The activity will take place one Friday a month from 19:30 p.m. to 20:30 p.m.
Afternoon Poetry Book Club
First activity in English organized by the library including participants with an intermediate level of English (the rest require an upper intermediate level or higher). Poems will be read, analyzed and commented on and we will discover lesser-known poets in Spain.
Chiara Luis, doctor in English literature and professor at the Institute who already collaborates in the "English Reading Circle" will be in charge of promoting this activity that will take place one Tuesday a month from 18:30 p.m. to 19:30 p.m.
—
The activities are free but given the limited capacity, all those interested must request their registration through the agenda.
Library members will have preference in registration until the week prior to the activity. Once the count of vacant places has been made after the registration of members, non-members will be confirmed their participation in the event.
Except for the "Afternoon Poetry Book Club" (intermediate level is sufficient), in order to participate in the activities in English it is necessary to have an upper-intermediate level or higher.
A fourth activity for teenagers is planned to be launched in collaboration with secondary schools. The Group Discussion for Teens will invite them to reflect and discuss in English about contemporary literature from graphic novels, short stories, poetry, etc. with the intention of stimulating critical thinking and values ​​such as tolerance. We will inform you in more detail soon.