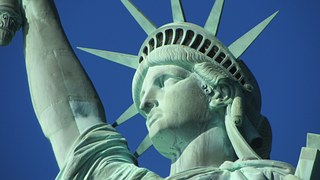 THE AMERICAN DREAM AND THE REALITY OF IMMIGRANTS THROUGH LITERATURE
Much is said about the "American dream", so much so that it has become a cliché, and as such it is often taken for granted that it is a well-known phenomenon. But is it really so? As often happens so often, if we analyze the issue, it may not be as much our knowledge as we think. To answer that question and immerse ourselves in one of the great topics of the North American nation, is what we will dedicate the next cycle to. When, how and why that dream was born precisely in a given country and historical moment; how it has evolved over more than two centuries, and why the narrative attitude of different authors is changing towards what was considered an individual and social ideal: these are just a handful of the multiple questions that we will all raise and elucidating.
Starting with babbitt, generally considered the most successful novel of Nobel Prize winner Sinclair Lewis, a work that lays the foundation for that dream and the social ascent to the middle class that accompanies it, we will continue to read a selection of novels on immigration that approach the subject in an remarkably representative. It goes without saying that – a clear reflection of North American society – the literature on immigration is an outstanding and essential body of literature in the United States. The same ethnic or racial origins of the authors are of an unusual variety: Irish, Italian, Jewish, Asian, Latino: they all appear on our reading list. For the rest, an entire session will be dedicated to the discussion of works by two Spanish authors who have written fiction based on their North American experience, Antonio Ferres and Francisco García Olmedo, who will join us that afternoon at the gathering.
Finally, the issue of immigration, which in itself raises issues of multiculturalism and interculturalism, will inevitably lead us to reflect on what we are currently experiencing in our country and throughout Europe. What is more, and with regard to Spain in particular, it will be just as inescapable to remember the words that President Obama dedicated to medieval Spain as a goal for the world of vast migrations that we have all experienced in our world today.
Eugenio Suarez-Galban
READING LIST:
September 29: Sinclair Lewis, babbitt
October 27: Henry Roth, call it sleep
November 24: Budd Schulberg, ¿Why is Sammy running??
December 15: Antonio Ferres, "John's clear eyes, "The hummingbird with its wine press tail"; Francisco Garcia-Olmedo, Notes to Fritz
January 26: Jenna Blum, the ones who saved us
February 23: Chaim Potok, My name is Asher Lev.
March 30: Arthur Miller, panorama from the bridge
April 27: Colm Tóibín, Brooklyn
May 25 – Julie Otsuka buddha in the attic
June 29: Daniel Alarcon, War by candlelight