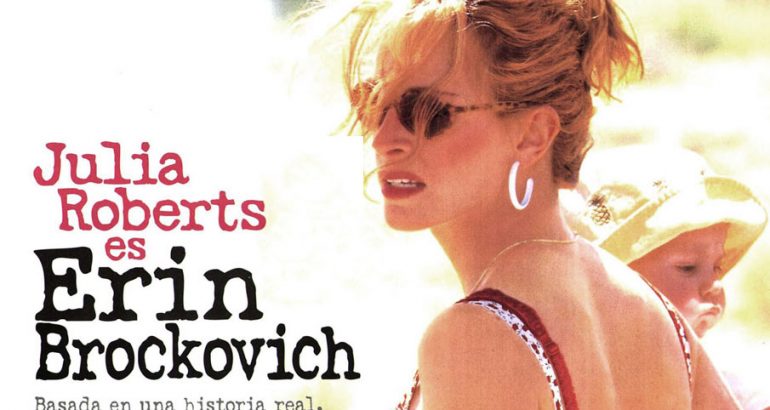 Posted: 22 May 2017
By: Library
Comments: No comments
CINEMA FORUM ON AMERICAN CINEMA – ASPECTS TO CONSIDER WHILE VIEWING THE FILM FOR LATER DISCUSSION: ERIN BROCKOVICH
Erin Brockovich tells the story of a poor single mother who finds a job as a paralegal in a law office. There, she discovers some medical information included in a mortgage transaction in the town of Hinkley, two hundred kilometers north of Los Angeles, and decides to investigate. She finds an entire village—more than six hundred people—suffering from illnesses caused by the contamination of drinking water by chromium used in the nearby gas and electricity factory. After some hard work, she uncovers evidence of a PG&E cover-up of the contamination, and her boss, Ed Masrey, files a class action lawsuit on behalf of the 333 people affected. The court orders PG&E to compensate all those affected for the damage caused, and orders them to pay $XNUMX million in total. Through this entire process, Brockovich faces discrimination based on his appearance, his coarse language, and even his ability to do legal work, since he had never attended a law school. Told with moments of high drama, suspense, and even comedy, Erin Brockovich It makes us see the fight for civil rights both on a personal and social level, the harmful effects of pollution and the restoration of the environment as another facet of the fight for civil rights.
In the talk after the movie, we tried to answer the following questions:
Throughout the film, we think about the moments of discrimination that Brockovich suffers. Does his situation as a single mother prevent him from finding a job or keeping it?
How do appearances (physical appearance, social class, level of education) work within the film? Are Brockovich and Hinkley residents discriminated against by the system or by attorneys at any point? Do PG&E representatives disparage or underestimate Brockovich, Masrey, and the plaintiffs or vice-versa? How is it that the film represents the effects of appearances?
Can environmental pollution (or at least the cover-up of pollution) be considered another facet of discrimination?
We are waiting for you next Wednesday, May 24, 2017 at six,
Diane Norton.
—
Cycle "American Biopics: civil rights in the United States through its protagonists".
Moderator: Diana Norton and Catalina Iannone.
Screening: at 18 p.m. / Colloquium: at 20:15 p.m.