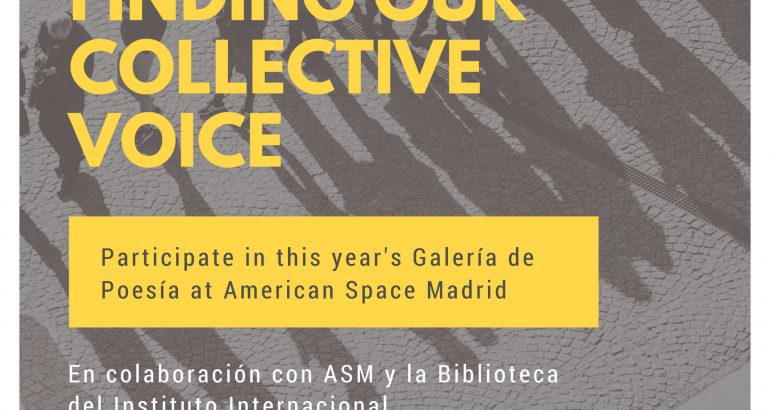 Posted: 15 May 2018
By: Library
Comments: No comments
Winners of the poetry contest in English "Finding Our Collective Voice" of the first edition 2017-18
The poetry contest in English "Finding Our Collective Voice", which arises this year as an extension of the activity "Group Discussion for Teens" of the American Space Madrid at the International Institute, is aimed at young people who are studying ESO or baccalaureate in the Community of Madrid without restrictions by nationality or residence. The closing date for the submission of poems was April 30, 2018.
The contest categories are as follows:
original poem.
Original piece of poetry created to be read aloud.
Original collective poem to be interpreted among the group's companions (no more than 5 participants per group).
Individual or collective recording of a performative poem or "Spoken Word" to be heard at the spring poetic exhibition.
The works must be original, unpublished and not have been awarded in any other literary contest.
The jury for the contest was made up of Laura Turner, director of the American Space Madrid, and the teachers who have developed the activities of the "Group Discussion for Teens" this year, Andrew Bennett and Christopher Withers.
The winners will receive a diploma from American Space Madrid that will be delivered at the "Poetry Gallery" on May 24, in which there will be a recital by the American poet Abraham Velazquez. ABE from the Peace Poets collective. In addition, all the participants of this edition will have preference in the "Spoken Word" workshop that ABE will teach next May 30 (see the month's agenda for registration).
—
The winners of the English poetry contest "Finding Our Collective Voice" of the first edition 2017-18 are:
"Original Collective Poem" Category:
renovation
My River
Unstable
collective poem of Sylvia Well, Angela Bucket, Daniel Gonzalez, Micaela Merino and Diego Pablo Sanchez.
"Original Poem" Category:
Nonsensical Letters to Self by Norma Alejandra Martínez Rivas.
The Long Way Home by Michaela Merino.
Lemon tree by Clara Cuadrado Alcolado.
"Spoken Word Poem" Category:
Untitled by Nerea Pérez Garrido and Lucía San Andrés.