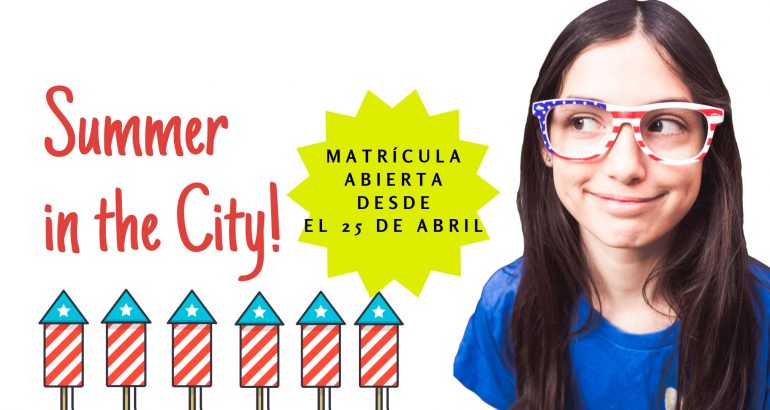 Posted: 25 April 2019
Comments: No comments
The enrollment period for Summer in the City 2019 and Summer in the City Teens 2019 is open
SUMMER IN THE CITY &
SUMMER IN THE CITY TEENS 2019
AUTHENTIC AMERICAN CAMP IN MADRID
TO HAVE FUN LEARNING ENGLISH
Children and young people from 4 to 16 years old
North American teachers
Interactive and fun classes: projects, theater, art, music, all in English!
Weekly excursions in Madrid
Computer room where you can carry out research and interactive projects
Free library with books, DVDs and magazines in English
from June 24 to July 19, 2019(*)
Four weeks with different themes
Week 1 (June 24-28): Making an Impact (One Step at a Time)
A week dedicated to making a better, more compassionate and inclusive world.
Week 2 (July 1-5): A Blast Through the Past
A journey through time to discover trends, technologies and pop culture in four different decades. The more we change the more we stay the same.
Week 3 (July 8-12): Is it Art?
A week inspired by different American artists, movements and artistic techniques including photography, painting, sculpture, , the expansion of art in the world of technology and much more. We are all amateurs until we are artists.
Week 4 (July 15-19): Mysteries, Myths and Mythbusters
What is an urban legend that has been debunked? Is everything we hold true true? A week of putting myths, urban legends, news and more to the test.
Of Lunes a viernes of 9: 30 a 14: 00 / 9: 30 a 16: 00
PREGISTRATION LOOP
Open

PLEVEL TESTS

Interviews (by appointment)

English department engdept@iie.es

Phone 91 319 81 84 / 82 75

PSTRONG

| | | |
| --- | --- | --- |
| | 9:30 - 14:00 | 9:30 - 16:00 |
| 1 week | €261 | €346 |
| 2 weeks | €469 | €546 |
| 3 weeks | €688 | €763 |
| 4 weeks | €898 | €972 |

* Enrollment per month, fortnights or weeks

* Lunch not included

* Optional nursery (prior reservation):

9: 00 - 9: 30 / 14: 00 - 14: 30

RPLACE RESERVATION

Deposit of €50 to be deducted from the total amount when formalizing the registration

DSALES
10% discount for siblings

FPAYMENT METHODS

Income transfer, check, card

We do not accept cash payments