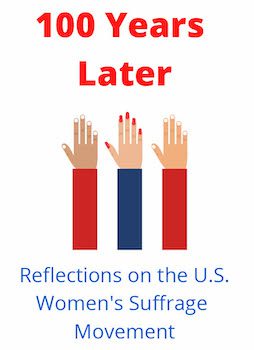 Posted: 10 December, 2020
Comments: Comments
100 years later: Reflections on the US women's suffrage movement
One hundred years after women in the United States finally won the right to vote, the country will be swearing in the first American female vice president, Kamala Harris. Political opinions aside, it's an interesting milestone as we reflect upon the centenary of the historical achievement of women's suffrage, which was the culmination of many years of effort. The service of women in local, state, and national politics, as well as on the courts, is just one of the ways the suffragettes' fight has shaped America these past 100 years. Women's suffrage has been on our minds this autumn, after many people observed the anniversary of the certification of the 19th Amendment in August. Nowadays, it's not possible to win a major US election without the support of female voters, and millions of women turned out to vote in the US presidential contest at the beginning of November. Voting women have not only become an important political demographic, they have also captured the imagination. Late last month, American Space Madrid hosted author Alix E. Harrow as she discussed her new novel — an alternate American history that sees three 19th-Century sisters bring the fight for witching rights to the women's suffrage movement.
As we move forward, one can't help but marvel that women achieved the right to vote only 100 years ago So it seems appropriate to take a moment to reflect upon the somewhat recent history regarding this fight with a cycle of virtual events:
On Dec. 15, Dr. Gerard Aching of Cornell University will detail the movement's history in the state of New York, focusing on the life of suffragist Emily Howland, whose activism began in the abolitionist movement. Aching is a professor of Africana and Romance Studies, and he is currently researching relationships between the abolitionist and women's suffrage movements in New York.
On Dec. 21, Dr. Rosario Ruiz Franco will speak about the history of women's suffrage in Spain. Franco is a professor of contemporary history at the Universidad Carlos III de Madrid, and her primary research centers on the history of women and gender relations in contemporary Spain.
Finally, we will be screening the documentary One Woman, One Vote, which chronicles the events leading up to the passing of the 19th Amendment to the US Constitution. The date of the screening is to be determined.