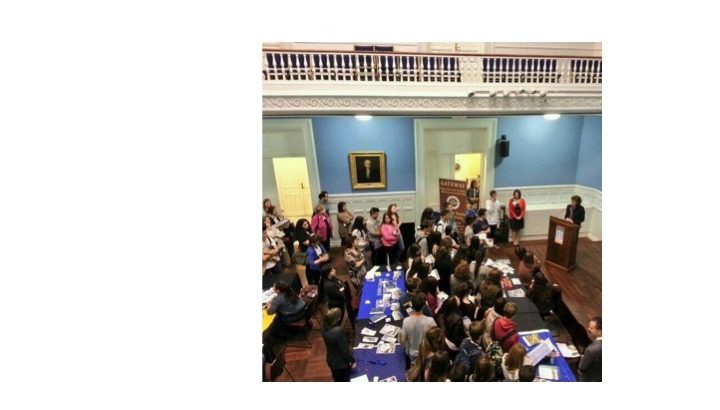 Posted: 24 junio, 2014
By: wpsupport
Comments: No hay comentarios
¿Quieres estudiar en los EE.UU.?: Competitive College Club
The EducationUSA Spain Competitive College Club (also known as the CCC) assists top high school students to become competitive applicants to U.S. universities. Club members participate in year round meetings that introduce them to the American educational system and the procedure for applying to US universities. The advising style of these meetings encourages club members to actively participate and interact amongst each other, just as they would be expected do in an American classroom. Club participants also receive preparation courses for the SAT and TOEFL exams, both of which are requirements for international students when applying to study at a US university.
Club members also perform volunteer work throughout the year. This experience is not only useful for building their college application, but it encourages them to be engaged with their community and recognize the benefits that result from it. Students who maximize their volunteer experience throughout their time spent in the club will find an interest in continuing to be involved with their community when they move to an American college campus.
In order to develop reading and presentation skills in English, members also participate in the CCC book club. Students work in groups to read and discuss a novel together. Once they have finished reading their novel, students write a book summary and present their novel to their peers.
Through group advising and exposure to American educational culture, CCC members will find that they are more qualified and prepared to commence studies in the US. Although CCC members aren't guaranteed admittance into a US university, students will have a greatly improved chance of receiving admission if they actively participate in the club.
EducationUSA Spain would like to thank the International Institute for its gracious support of the Competitive College Club! We greatly appreciate all of the assistance that the institute has provided us with in regards to meeting coordination and continuing to reach more students to inform them about studying in the US.
Text by Erica Overbeek, Community Manager – Fulbright/EducationUSA
Más información :
http://fulbright.es/ver/estudiar-en-eeuu
http://www.educationusa.info/Spain