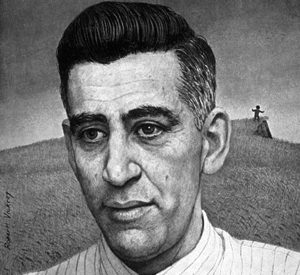 Posted: 22 octubre, 2014
Comments: No hay comentarios
THE STORY OF THE MONTH: "UNCLE WIGGILY IN CONNECTICUT"
Our cycle "Great Short Stories from Lesser Known Authors/Lesser Known Short Stories from Great Authors" continues this month with J.D. Salinger's "Uncle Wiggily in Connecticut." Originally published in The New Yorker in 1948, it is included in Salinger's 1953 collection Nine Stories, which is perhaps his most well-known work, after Catcher in the Rye.
"Uncle Wiggily," like several of the other stories included in the collection, falls within the solar system of the Glass family, around whom much of Salinger's works revolve. The Walt Eloise reminisces about is Walter Glass, whose family name was made famous by the siblings' extraordinary performances on radio quiz programs as children. However, the focus of this story is not on the Glasses but on Eloise, Walt's girlfriend until his death in a freak accident in 1945. Now three years have passed; Eloise is married and living in suburban Connecticut with her husband Lew and daughter Ramona. She has hardened to the world, and as she and her college roommate Mary Jane drink themselves into oblivion in the early winter afternoon we as readers are treated to an intimate portrait of a woman whose cynical humor masks a deep disenchantment with "the good life," and perhaps a deeper self-disgust.
As was the case with O'Connor's "A Late Encounter with the Enemy," here too humor plays an important, if distinct, role. Whereas the humor in O'Connor's story lies in the author's description of the characters, in "Uncle Wiggily" comedy is pursued by the character of Eloise herself, actively. It is what drew her to Walt; it is one of the primary shortcomings she sees in Lew. One issue that we should consider next Tuesday is the value and power of humor for Eloise. What does it mean to her? Additionally, I encourage you to consider Eloise's initial refusal to tell Mary Jane the details of Walt's death. Why does she keep it from Lew as well? What is it about Walt's death that can't be shared?
Perhaps the most powerful scene of the story occurs in Ramona's bedroom, as Eloise attempts to cure her child of the need to foster imaginary friends. We will speak about this next week I'm sure, but be prepared to offer your own opinion about the significance of her actions. What is it that makes her turn around and draws her to Ramona's glasses? Why are Walt's words ("Poor Uncle Wiggily") the ones that come out of her mouth?
Like much of Salinger's work, this story blends the quotidian and the poignant in a way that often leaves us with unanswered questions like the ones above. The hidden beauty of ordinary life is a recurring theme, and such is the case here as well. Somewhere beneath the dirty sludge of ice and snow that protects and traps Eloise there lies something else, something clean and nice. I look forward to exploring it with you next week. Happy reading.
Andrew Bennett
English Reading Circle moderator.
https://www.iie.es/2014/10/13/relato-del-mes-del-english-reading-circle-sesion-de-octubre-2014/