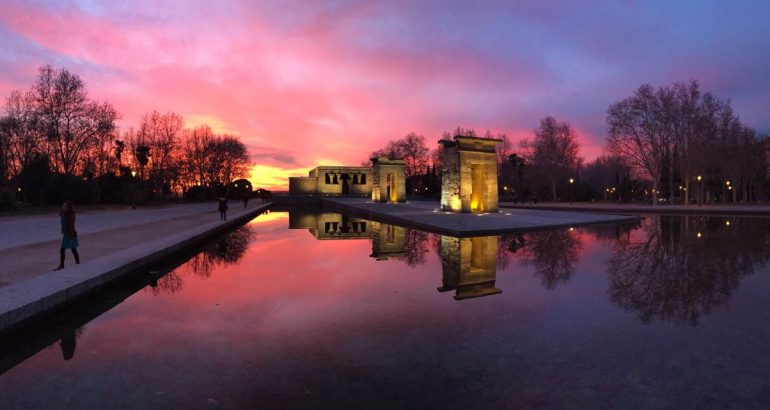 Posted: 8 julio, 2015
Comments: No hay comentarios
Describing a Semester in Madrid – by Clarissa Towle
17,993 miles. 157 days. 143 classes. 95 classmates. 42 coffees. 33 churros. 17 new friends. 9 exams. 7 side trips. 5 metro abonos. 4 courses. 2 host parents. 1 semester abroad in Madrid.
As a scientist, I like numbers, but although I can count every afternoon I spent at the botanical garden at the university, I can't quantify the bliss of the Spanish sun on my cheeks, or the tranquility of walking through the rosaleda in full bloom. My experience in Madrid is hardly describable from a quantitative point of view, but that doesn't come as a surprise: Travel is not a science — it is an art. And the really incredible part of visiting one place for so many months is that it stops feeling like traveling and starts feeling like living, only you get to live in another world.
I found myself walking the same streets of my barrio over and over, coming to know all the storefronts, plazas, and alleys. I had a favorite churrería, a favorite afternoon walking route, and a favorite drink at the university café (and the baristas chuckled when I ordered 'the usual'). I would go to class, have dinner with my padres, and volunteer at the Instituto Internacional when I had a chance. Madrid became familiar and comfortable, and when I journeyed to Paris, London, and Stockholm, there was always that little sigh of relief upon returning, once again, to Spanish soil.
My host parents, the other MIT-Madrid students, my Spanish classmates, the staff at Accent Madrid, and the folks at the Instituto formed my network of friendly faces that was so critical to me as a newcomer. Being alone in a foreign city might be exciting at first, but it is a lonely venture. I'm so grateful to all the people that I met who made Spain feel like home, who contributed to my unquantifiable experiences.
It's hard for me to resist lists, so for your consideration, I'll share with you a list of some of my favorite moments, phenomena, and emotions that my numbers simply cannot describe:
The breathlessness of arriving in a new city, alone, as a complete foreigner;
The repeated self-assurance of incessantly checking Google Maps to confirm the same route;
The rush of a keeping up with a flowing, multi-faceted conversation amongst Spaniards – the kind where everybody talks over one another and you need to follow three threads at once;
The warm, sweet taste of freshly fried churros sprinkled with sugar and dunked in thick, Spanish hot chocolate;
The bashful garbling of words when switching between languages too quickly;
The sense of letting go of stresses in favor of a calming, evening paseo through the cobblestone streets, drenched in the light of the late afternoon sun;
The richly splendid orange, pink, and purple sky over the Templo de Debod at sunset;
The windless stillness of the city streets in the early hours of a calm morning;
The sheepish blush that arises upon suddenly realizing that a certain word means something entirely different from the preconceived definition after months of incorrect use;
The bittersweet warmth of saying a heartfelt Adiós to great friends and a wonderful city.
Madrid, nunca te olvidaré. Te volveré a ver, seguramente. Gracias por todo. Besitos xx.