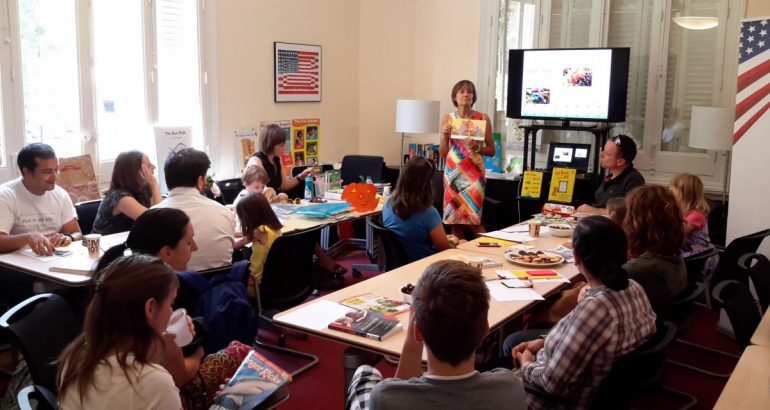 Posted: 29 julio, 2015
Comments: No hay comentarios
Creative Parenting ideas for Summer! Bilingual Family Forum with Anna Steele
Anna Steele gave three fantastic talks on Creative Parenting in the cycle of talks, Aprender para Enseñar, Encuentros para Padres y Profesores at the International Institute this spring, sponsored by American Space Madrid. She presented creative ways for families to develop more than one language in the home, as well as sharing activities and resources with parents to interact creatively with their children. Anna demostrated activities involving reading, re-telling stories, making crafts and musical instruments.

Here are the notes from Anna's presentation about language learning and acquisition, which includes creative tips for developing language in the family: extract A Steele language learning and acquisition.
Read about the first Bilingual Family Forum in May here.
Notes from the other talks in the Aprender para Enseñar series are here.
The Institute's Library has several relevant titles for parents and teachers about language learning and Bilingualism. Some suggested titles are:
How Languages are Learned, Lightbown and Spada
A Parents' and Teachers' Guide to Bilingualism, Colin Baker
The Power of Reading, Stephen Krashen
Here is a video of Krashen discussing The Power of Reading from Ted.com.
 As a follow-up to her talks, Anna wrote the following about her philosophy of Creative Parenting:
BILINGUAL FAMILIES AND EDUCATIONAL ACTIVITIES AT HOME AND FINDING OTHER CONTEXTS
Anna Steele
The family can use play to invite children to get involved in CREATIVE language experiences. It is motivating and fun and can be used at all ages. Besides, play includes a variety of language acquisition situations: interaction, cognition, psychomotor skills. It also includes the social skill of following rules along with its cognitive implications. Play means: Fun, thinking creatively, problem solving skills, language development and general communication skills in a variety of areas, positive social skills, reading and learning to write, Literacy: symbolic (not written), pretending (make believe), ENJOYMENT!
The role of parents is to: observe and enhance types of play, involve children in social interaction and varied language use and registers (formal and informal), facilitate peer interaction, make play increasingly more complex as children grow and mature, and also give them time and space to play and discover on their own. By fulfilling this role, we are learning from our children, so they are fulfilled as family members.
We want to develop language ownership, where children feel comfortable and creative in their experiences in their life-long learning.
We would like to thank Anna for sharing her time, knowledge and experience with us, the parents and children who attended the session, and American Space Madrid for sponsoring the talks. We hope to hold more talks for parents and teachers in the 2015-16 school year.