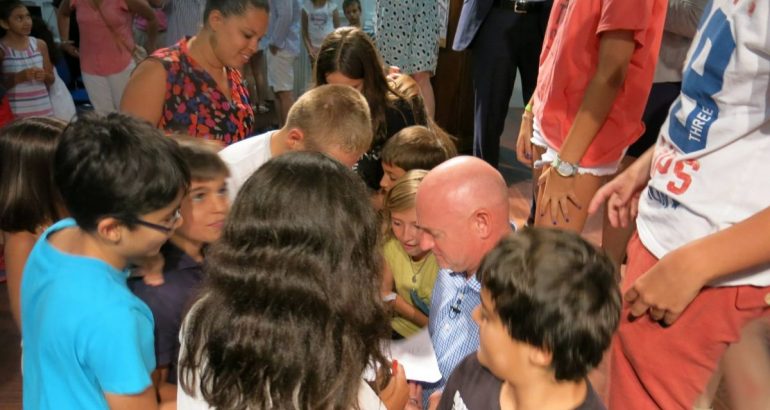 Posted: 11 agosto, 2015
Comments: No hay comentarios
Notes & News Julio 2015
PARA ACCEDER AL NÚMERO DE JULIO DE 2015 DEL BOLETÍN DE NOTICIAS NOTES & NEWS: NOTES AND NEWS JULY 2015 VF 
From the President
The International Institute in Spain has a long, illustrious history, and its labors in the areas of educational and cultural exchange from the days of our founder Alice Gordon Gulick until today have played an important role in the relations between the U.S. and Spain.
Students and scholars have long found a home at Miguel Ángel, 8, but the International Institute of 2015 is attracting a new public: children, young people, and families. Activities drawing these groups have become regular features on the Institute calendar.
The Library has been a focus of events that welcome children to the Institute. The popular Saturday morning storytelling sessions for young children, one in English, the other bilingual, are almost always fully subscribed. Actors dramatize English-language children's books, inviting plenty of audience participation from children and parents. The Readers' Theater attracts older kids who read scripts based on American children's fiction, learning to develop characters and to read in English with expression.
The Library has also sponsored Reading Road Map sessions, in which children receive a map of the Institute and find rooms where an adult reader waits to share a story in English. Children who hear at least three stories win a prize: an American children's book to take home.
All of these activities have been supported by American Space Madrid. I observed just how effective they can be when I attended the Reading Road Map story sessions in June with my four-year-old granddaughter and saw firsthand how a young child can enjoy the International Institute.
The International Institute's American English Program presents a variety of opportunities for children and teens to learn English and to improve English skills.
During the academic year, Saturday classes for Young Learners are especially popular. The Kids' Club enables children from bilingual or binational families or Spanish families that have lived in the U.S. to maintain their English through a weekly session of activities, games and American cultural activities.
Under the leadership of English Program Director Patti Trimborn, the Summer in the City 2015 offers Young Learners an urban day camp experience in English. Kids from 5 to 16 enjoy camp arts and crafts, field trips, and games in a program that makes particularly strong use of the Institute garden. On July 9, this summer's campers were able to meet U.S. astronaut Mark Kelly, who discussed his experiences in space and generously answered the campers' questions.
The Institute also offers courses in SAT preparation and in study skills for the American classroom for young people planning to attend U.S. colleges and universities. American Space Madrid, working with Education USA, also encourages Spanish teens to study in the U.S.
Programs for parents have also become part of the Institute's outreach to Spanish families. Speakers on topics such as how to incorporate a second language into family life and how to encourage critical thinking have brought a new richness to the Institute's offerings.
We would like to attract even more children and families to Miguel Ángel, 8. We hope to expand the Library's collection for young readers, establishing an American-style children's library in Madrid. Remarkably, circulation of the Library's holdings for children and teens equals that for the entire rest of the collection
We invite parents to bring their kids to Miguel Ángel, 8 to share in the rich life of our 21st Century International Institute.
Margery Resnick