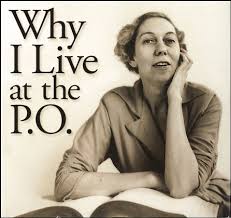 Posted: 15 septiembre, 2015
Comments: No hay comentarios
ENGLISH READING CIRCLE – SHORT STORY OF THE MONTH ANALYSIS: "WHY I LIVE AT THE P.O." BY EUDORA WELTY
Welcome to the inaugural session of the 2015-2016 English Reading Circle! This year's cycle is entitled "American Women's Writing," and it opens with a story by a woman whose stature, demure though it may be, casts a long shadow over the American literary landscape: Eudora Welty. Her story "Why I Live at the PO," first published in 1941, is a boisterous and comical masterpiece of Southern Realism writing, and is sure to get the year off to a rousing start.
Realism and the way it is presented are key ideas when considering this story, and features that distinguish Welty's work from that of other Southern writers whose writing has been labeled gothic, most notably Flannery O'Connor and William Faulkner. Rather than delve into violent decadence as Southern Gothic stories frequently do, "Why I Live at the PO" is a family comedy whose humor is derived in large part from its bitter, resentful, and unrepentant narrator, Sister, whose version of the events of the 4th of July constitute the story, and, in her mind, explain why she's living at the Post Office.  Once we realize that our narrator is, very literally, unstable, it is up to us as readers to decide if we are on her side, or if we are, as she says, against her.
We'll discuss which side you're on in our meeting next Tuesday, but for now here are some questions that I hope might guide your reading and give you something more to think about before then:
Who is this story directed towards? The style and rhetoric that Sister uses suggest a certain kind of context. What is it?
Why does she resent Stella-Rondo? Think about this carefully, as the answer is perhaps more complicated than it seems at first.
Place is a central feature of Welty's writing. She lived and died in the same house she was born in, in Jackson, Mississippi, and a great majority if not all of her work is dedicated to realistically capturing the American South in the early and mid-20th What does this story tell you about the South? How is it changing at the time of writing, and what effect do those changes have on the characters?
Welty was an avid photographer, and she claimed that the idea for this story came from a photo she saw of a woman working at a post office. How do you imagine that photo? What does this anecdote tell us about her artistic approach?
I look forward to hearing your thoughts on these and whatever other questions and issues this story brings to mind. See you next Tuesday, and happy reading!
Andrew Benett, English Reading Circle facilitator.
More details at: https://www.iie.es/agenda/