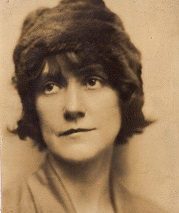 Posted: 15 junio, 2016
Comments: No hay comentarios
ENGLISH READING CIRCLE – SHORT STORY OF THE MONTH ANALYSIS: "A JURY OF HER PEERS" BY SUSAN GLASPELL
We close our 2015-2016 cycle on American Women's Writing with Susan Glaspell's "A Jury of her Peers," first published in 1917. The tale of an Iowa farmer's wife accused of murdering her husband was one Glaspell reported on as a journalist in 1900; she then wrote the play "Trifles," first performed in 1916, as a dramatic rendering of true events. The play is heavily anthologized, and stands as one of the leading examples of early American feminist drama. "A Jury of her Peers" is likewise considered a powerful example of Glaspell's significance as a pioneering voice of American feminism, one that faded into obscurity mid-century before only recently regaining its proper stature as an American master deserving of canonical status.
Both the story and the play (in which Glaspell herself often portrayed the protagonist Martha Hale) take place in Iowa in 1900, and present a snapshot of three women, Mrs. Hale, Peters and Wright, united by secret knowledge and a common enemy: men and the cage of male-dominated society. The story's title is an insight into its theme and meaning. Mrs. Wright, the prime suspect in the murder of her husband, is judged by "A Jury of Her Peers" in this story, as Mrs. Hale and Mrs. Peters follow the evidence unseen by their husbands and the country attorney to a greater understanding of both her motive and her suffering. The realities of misogyny and inequality are starkly cast in this story; Mrs. Hale and Mrs. Peters are dismissed out of hand as undeserving of the men's attention or respect. Yet it is this same ignorance that provides the women with the freedom to subvert authority and control events, and thereby gain a degree of power that, although invisible to the men, establishes a sense of solidarity with the accused, and all the other women forced to submit to a life of loneliness and heartbreak.
The inspiration for the story came from a murder Glaspell covered while working as a reporter in Iowa. While in the fictionalized account there is evidence that the accused might be exonerated given the cover-up the two women orchestrate, the real-life story did not end with the same type of feminist triumph, as the wife was ultimately convicted. After reporting on the trial Glaspell abruptly quit journalism for good to turn her focus to fiction exclusively. It is easy to speculate that, perhaps, she sought to create a reality in which women might lay claim to some sort of power, since the world as it was showed no signs, at least in her day, of ever changing.
Happy reading,
Andrew Bennett.