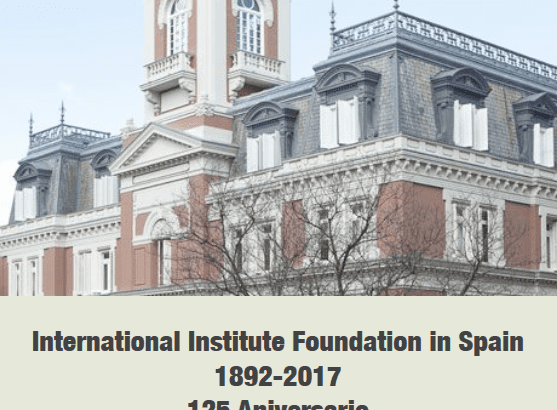 Posted: 23 diciembre, 2016
Comments: No hay comentarios
Notes & News Diciembre 2016
Para acceder al último número de Notes & News : Notes & News Diciembre 2016
From the President
I wish the best for the holidays and for the New Year to all members of the International Institute in Spain community.
In 2017, the International Institute will mark its 125th year of dedication to the mission of cultural and educational exchange between the United States and Spain. At a time when isolationism and the desire to create barriers between peoples are widespread, the Institute's dedication to its singular mission of increasing the bonds between the U.S. and Spain remains exceptional. We have committed our organization to sharing the best of American culture and educational practices with the Madrid community, and we continue to promote study in Spain for American students through our collaboration with American universities and colleges. In fulfilling our mission, we have brought thousands of Spaniards and Americans to the Institute's Miguel Ángel, 8 building this past year for programs ranging from explaining the U.S. elections process, promoting study in the U.S. for Spaniards, showings of silent films with live accompaniment, technology for girls, storytelling for children, an urban summer day camp, and discussions for teens. During the summer, two Brookline, Massachusetts, public school teachers came to the Institute and offered a mini-course on the proficiency-based language classroom for Madrid area educators. We have established relationships with Madrid cultural entities such as the Museo Thyssen-Bornemisza in connection with our American Cultural Studies program and will be announcing exciting new ties with a major Madrid institution presenting American works in the New Year. We continue to host the American Space Madrid, a center for information about the U.S. that is itself a source of imaginative and exciting events and programs. We are constantly seeking new ways to enhance our offerings of activities and to find novel ways to present ideas and intellectual trends that may interest members of the Institute community in Madrid.
As the International Institute enters its 125th year, I want to send season's greetings to the members of our team in Madrid, those who work so hard every day to advance the cause of international exchange to which our organization is devoted. Led by Executive Director Pilar Piñón, this vibrant group includes Nicole Rosow, Director of the English Program; Laura Turner, Director of American Space Madrid; Andrew Bennett, head of American Cultural Studies; and librarians Nuria Seguí and Ana Alonso. Best wishes for the holidays also go to Juan González, our facilities manager; María José (Cota) Cotarelo, administrative assistant; Marian Cortés, English Program administrative assistant; Juan López, cafeteria manager; Andrés Fernández and Víctor Martínez, our porteros; and Trinidad Almansa, María del Mar Ortega, Teresa Zabaleta, Isabel Falquina and Nuria Yubero, the members of our cleaning staff. I also send holiday greetings to the members of the English Program faculty, with a special salute to one of our veteran teachers, Lee Buckley. All of us committed to the wonderful project of the International Institute in Spain are grateful to these people, who strive each day to realize our organization's goals in concrete ways.
I also want to thank those who join me on the International Institute's all-volunteer Board of Directors: Karen Arenson, Prof. Stanley Brandes, Prof. Urbain DeWinter, Prof. Martha L. Gray, Prof. Raquel Halty, Thomas M. Hotaling, Prof. Linda Gould Levine, Francis V. Lloyd III, Álvaro Mendiola Jiménez, Susan Solomont, Theresa Tobin, and Prof. Nicolás Wey-Gómez.
Advancing into 2017, the International Institute will continue striving to fulfill its mission, with special attention to issues of interest to women. We continue to follow the path of our founder, Alice Gordon Gulick, who devoted her life to the cause of education for Spanish girls and women.
We are planning exciting changes for the Institute Library, including an expanded area and collection for children and teens. The 125th anniversary year will surely bring other surprises and celebrations, as well.
I want to thank those of you who have made donations to the International Institute in Spain for 2016. Our donors follow in the particularly American tradition of private philanthropy that led to the formation of the Institute and the construction of its historic building. Our hope is to expand the number of contributors for 2017 to help us fund new projects. This year I would especially like to recognize the generous contribution of R. Lane Kauffman, professor emeritus of Spanish at Rice University, to the Library. We are also enormously grateful to Sara T. Nalle, professor emerita of Spanish history at William Paterson University, for her expressed intent to include a generous bequest to the International Institute in her estate plan. The International Institute in Spain, a 501(c)(3) organization, still relies on the generosity of donors who support its mission of cultural and educational exchange, a mission that is more important in today's interconnected world than ever before. We welcome your contributions, which will enable the International Institute to uphold its traditions even as it pursues innovation and renewal in the upcoming 125th anniversary year and on into the future.
Happy Holidays! Happy New Year!
Prof. Margery Resnick, President