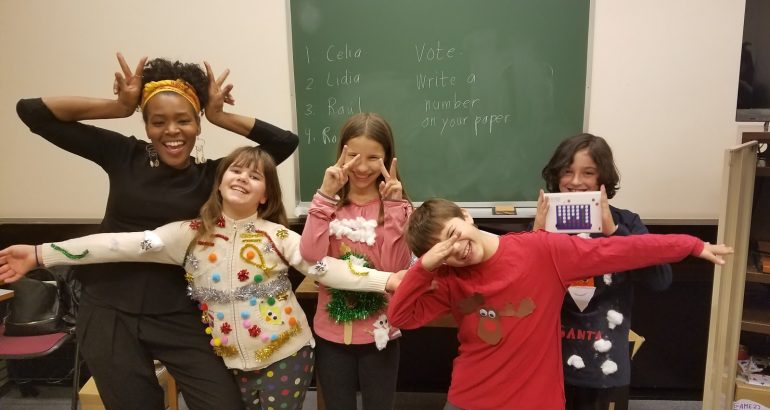 Posted: 15 diciembre, 2017
Comments: No hay comentarios
Kids Club 2 With Jessica: A Fun-Filled Trimester
It's the end of the trimester, which means it's time to celebrate the holidays and spend valuable time with family. Unfortunately, this also means it's the end of Kids Club 2 – for now.
The past few months have been action-packed! Our students have been hard at work, getting their creative juices flowing while learning about American traditions and having quite a bit of fun. During the month of October, we put on our explorer hats and had a scavenger hunt in the Institute. We also teamed up with the other Kids Club groups to play some Halloween-themed games. Pumpkin Bowling, the Toilet Paper Mummy Wrap, and "Eyeball Blow and Roll" all seemed to be a big hit!
In November, we read Shel Silverstein's classic The Giving Tree, which addresses themes of gratitude and generosity. After analyzing the book's message, we discussed ways that we could be more giving, and then created our very own "giving trees" made of colored paper. Towards the end of the month, we got our hands dirty and tried our luck at making slime, using various household ingredients. Unfortunately, our first attempt was unsuccessful, so we analyzed and improved our recipe and created the perfect mixture the second time around.
December's stand-out was the ugly Christmas sweater party. Students were tasked with creating the ugliest (translation: most creative) sweaters they could imagine. We joined forces with the Institute's other Kids Club groups, who served as audience members during an "ugly" fashion show. They also assisted us in selecting a contest winner. (Congratulations, Rodrigo!)
We can't wait to continue the momentum and find out what's in store for Kids Club next trimester! See you in January!