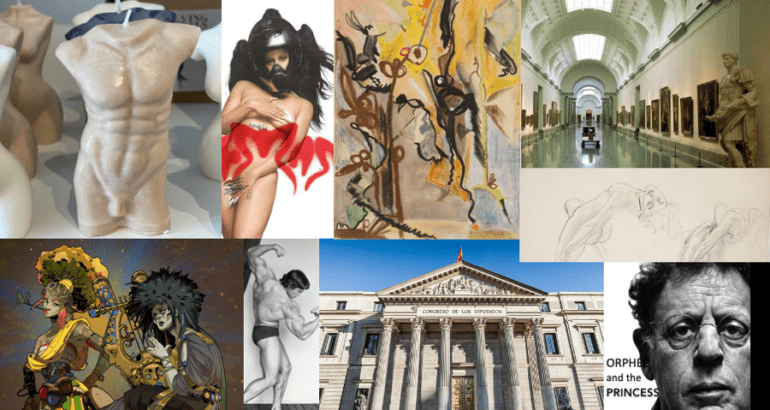 Posted: 7 septiembre, 2022
Comments: No hay comentarios
Looking at the Classical World – Fall 2022
This fall the ACS Department at the International Institute is offering two courses inspired by classical sources: Orpheus & Eurydice Reimagined: Classical Mythology in North American Literature and The Classical Tradition in American Art, Architecture and Film.
Why is the International Institute – a cultural institute dedicated to sharing the language and cultural traditions of North America – turning its attention to classical mythology and the classical tradition, and why now?
When we found out that the Teatro Real in Madrid would be putting on Philip Glass' chamber opera, Orphée, in the fall of 2022, we asked ourselves the question: why was American composer Philip Glass attracted to the subject of Orpheus in the early 1990s, a subject which had already been treated by countless composers over the centuries?
 What is it about classical themes and forms, and in particular the myth of Orpheus, that has captured our collective imaginations? Why are ancient subjects still compelling artists to respond, even when they are far removed temporally and geographically from the classical sources? And why are audiences, viewers and readers also still attracted to operas, performances, literary works, art and architecture that draw on the forms, motifs, and subjects of classical antiquity?
What exactly do we mean when we talk about "the classical world" or "the classical tradition"?
We are talking about the cultural traditions that can be traced back to 5th century BCE Greece. If we look back to ancient Greece, we find stories of gods and mythological figures, but also theories of beauty and proportion that took shape there and which have been handed down over the centuries. These ideas have influenced not only the cultural traditions of Europe but have extended to all corners of the globe.
Where can we find the impact of the classical world?
Western literature is deeply indebted to the classical world, not only as the origin of genres like epic poetry, drama, and satire, but also for the ever-enduring stories of their major characters. Even to this day most of us are familiar with Odysseus, Achilles, Hercules, Medusa, the Sirens, Helen, and many others. They have long since escaped the classical texts to find new life in musical operas, Hollywood movies, comic books, video games, novels and short stories that bring countless new renditions of their tales adapted to contemporary concerns and interests.
Look around you and you can see the influence of classical antiquity, particularly in urban architecture. You can see the classical influence in the forms of many buildings, from banks and courthouses to museums and universities.
It also accounts for the widespread acceptance that the naked human body is a legitimate subject of art in the western world. Classical sculptures of male and female nudes still inform our expectations about what ideal bodies should be like today. This tradition is, in fact, responsible for the dissatisfaction many of us feel with the proportions of real human bodies!
Furthermore, from the classical tradition came the idea that it was possible to classify some cultural products as more important and more authoritative than others. This process of classifying and ranking has long served the formation of institutions such as academies and museums. It is from this tradition that we get "the canon" – the idea that a set of aesthetic values can be agreed upon and shared. If we ever want to challenge the canon, we first have to understand where it came from.
Why is Orpheus still relevant today?
The heroes and heroines of the classical world were larger than life, but they had to contend with the most human of passions: love, wrath, despair, hubris, greed, curiosity, jealousy, neglect. These would bring them great sorrows and even tragic ends despite their strength, their valor, or their incomparable beauty. Modern psychology has delved into their fates to analyze the complexities of the human psyche. And all the arts have combined their efforts to give us their embodiment, whether in sculpture and painting, or music and words. Their protean nature is endless.
 A great example of this is the tragic love story of Orpheus and Eurydice. The musician Orpheus could move the whole of creation with his song, including the world of the dead, and yet failed to bring his beloved back to life due to his impatience, or maybe lack of faith, or even overwhelming desire. No matter, he lost her forever. He had one chance, he blew it. Who among us cannot relate to that? The story invites us to feel the greatness of that loss against our own personal shortcomings. But what of Eurydice? Her silent presence embodies an enigma still to be deciphered.
 Due to his connection to music the story of Orpheus and Eurydice has found a natural environment in the world of the opera, ballet, and musical. The tragic couple have also been represented in paintings and sculptures ever since antiquity. Movie directors and playwrights have brought modern versions of their tale to contemporary audiences. Poets and authors still explore the many dark angles of this story.
Knowledge of the classical world comes in very handy in navigating today's pop culture landscape!
Since authors, screenwriters, artists and designers of all kinds are still reworking and referencing classical source material, the more we know about the sources, the richer will be our appreciation of the traces of the classical world that still circulate all around us.
 A few recent examples:
What ACS courses will be offered this fall to complement the themes of Orpheus and the classical world?
Orpheus & Eurydice Reimagined: Classical Mythology in North American Literature is an online mini-course running in parallel with the production of Phillip Glass' Orphée at the Teatro Real in September.
The Classical Tradition in American Art, Architecture and Film is a 30-hour course offered over 10 weeks from October to December, which will meet in person at the Institute.
Registration for both courses is now open.