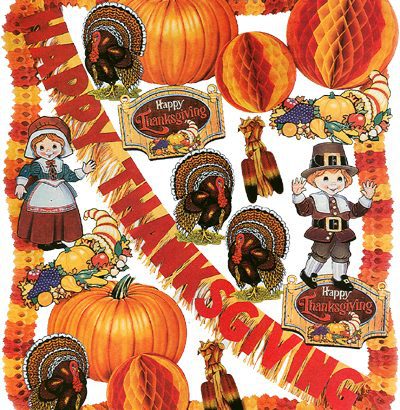 Posted: November 27, 2008
Comments: No comments
Happy Thanksgiving!
Drom the Library we want to join those who celebrate this special day within the North American culture.
OWe recommend our selection of books about this holiday: thanksgiving books
Y We take the opportunity to give you a little information about this North American holiday:
The celebration
El Action DayThanksgiving is a traditional celebration of North America (except Mexico). In the United States it is celebrated on the fourth Thursday of November, at the end of the harvest season. It is a family celebration in which thanks are given for spiritual and material possessions.
Hoday, many people celebrate it both with family and friends, gathering in a house to have a great banquet. referring us To the origins of the celebration, we can verify that in many ancient cultures there was the custom of celebrating a party after the harvest season. The difference between these and notrteamericana is the religious spirit associated with the gratitude of the English colonists towards the Native Americans after the brutal winter in Plymouth, Massachusetts, in which they shared their food with the settlers, so they were able to survive.
EThe Christmas vacation period usually runs from Thanksgiving to New Year's Eve.
Food
Ehe traditional main course for dinner is a large roast turkey. This turkey is accompanied with a stuffing made of cornbread and sage. Is usually serve with a lingonberry jelly or sauce ("cranberry sauce"). In addition to dishes de greenures like green beans (green bean casserole), sweet potato, and mashed potatoes with a gravy made from turkey juice, as well as a multitude of desserts, with pumpkin pie being the most popular. Pecan and apple pie are also popular.
TAll of these dishes are a combination of Native American dishes with new foods introduced by Europeans when they arrived in the New World. As an alternative to turkey, many vegetarians they take tofurky, a turkey without meat made withn tofu.
(Source: Wikipedia)
SPANISH VERSION:
The Holiday
THanksgiving, or Thanksgiving Day, celebrated on the fourth Thursday in November, at the end of the harvest season, is an annual American Federal holiday to express thanks for one's material and spiritual possessions.
MMost people celebrate by gathering at home with family or friends for a holiday feast. Though the holiday's origins can be traced to harvest festivals which have been celebrated in many cultures since ancient times, the American holiday has religious undertones related to the deliverance of the English settlers by Native Americans after the brutal winter at Plymouth, Massachusetts.
The period from Thanksgiving Day to New Year's Day often is street d the holiday season.
TheFood
In the United States, certain kinds of food are traditionally served at Thanksgiving meals. First and foremost, baked or roasted turkey is usually the featured item on any Thanksgiving feast table (so much so that Thanksgiving is sometimes referred to as "Turkey Day") Stuffing, mashed potatoes with gravy, sweet potatoes, cranberry sauce, sweet corn, other fall vegetables, and pumpkin pie are commonly associated with Thanksgiving dinner. All of these primary dishes are actually native to the Americas or were introduced as a new food source to the Europeans when they arrived. As an alternative to turkey, many vegetarians eat tofurky, a meatless turkey made of tofu.