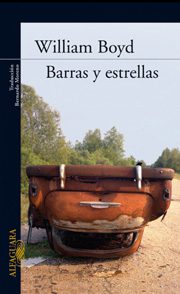 Posted: 1 December, 2008
Comments: No comments
Reading Circle – Book of the Month for December
Participate in the Library's Reading Circle with the reading of the recommended book and with the colloquium on the last Thursday of each month... and discover why the words read better if you put them in a circle.
Directed by Soledad Fox. Free admission with prior registration at library@iie.es
Book of the Month: "Stars and Stripes" by William Boyd
COLLOQUIUM: Thursday, December 18 at 19:30 p.m.
(The date is brought forward due to the Christmas holidays)
Henderson Dores is a shy thirty-nine-year-old Englishman, an appraiser for a major art gallery in New York, who is in love with the American people and wants with all his might to be accepted by that society.
To achieve this, he must change his way of being and overcome his inhibitions, which will happen during a bizarre work trip to Luxora Beach, a small town located between Georgia and Alabama, where the eccentric millionaire Loomis Gage and his curious family live.
Stars and Stripes is an amusing novel and a sharp critique of American society brimming with action and intrigue.
Recommended links (in English):