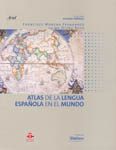 Posted: 10 December, 2008
Comments: No comments
Recommended News
We recommend you Some of the new books added to the Library collection:
Atlas of the Spanish language in the world / Francisco Moreno Fernandez, Jaime Otero Roth. — 1st ed. — Barcelona: Ariel; Madrid: Fundación Telefónica, 2007. — 117 p. : ill. ; 27cm DL B 50138-2007 — ISBN 978-84-08-07800-5 /G 1046 .E3 M67 2007
The Atlas of Spanish in the World, prepared by Jaime Otero and Francisco Moreno Fernández, allows us to know the social and demographic strength in order to study its economic weight. The work includes the latest estimates on the number of Spanish speakers, their growth trend and new sources of expansion. The latest measurements put the number of native speakers at 399 million. If speakers with limited competence (resident foreigners, speakers of Spanish as a second language) and learners of Spanish as a foreign language (according to the Cervantes Institute) are added to this figure, the total count stands at 438 million speakers, which It represents 5% of the world population.
(Taken from: http://www.elcastellano.org/noticia.php?id=532)
understand immigration / William of the Dehesa. — Madrid: Editorial Alliance, 2008. — 412 p. ; 24cm Bibliography: p. 379-412 DL M 20124-2008 — ISBN 978-84-206-6277-0 / JV 6201 .D44 2008
Migration, explains Guillermo de la Dehesa in his new book -Understanding Immigration (Alianza Editorial)- is one of the three ways in which work is globalized, and it is the most direct, since it is the worker himself who move. The other two are indirect, either through international trade or through capital movements. The book, as in his previous studies on globalization, more than fulfills its purpose of offering the non-expert reader a simple explanation of all aspects of migratory movements.
(Taken from: http://www.elimparcial.es/contenido/20538.html)
In brackets : essays, articles and speeches (1998-2003) / Roberto Bolaño ; edition of Ignacio Echevarría. — Barcelona: Anagrama, 2004. — 366 p. ; 22cm — (Arguments Collection; 316). DL B 27370-2004 — ISBN 978-84-339-6210-8 / PQ 8098.2.O43 E58 2004
Here is everything, or almost everything, that Bolaño published (or that the editors were able to gather, because there are also unpublished ones) in column, article, speech or conference format. The bulk is made up of the texts that he wrote as a columnist for Las Ultimas Noticias and for the Spanish newspaper Diari de Girona. But there is everything.
(Taken from: http://www.letras.s5.com/rb090704.htm)
The wonderful short life of Oscar Wao / Junot Diaz ; translation of Archy Obejas. — 3rd ed. — Barcelona: Mondadori, 2008. — 309 p. ; 22cm — (Mondadori Literature; 367). 2008 Pulitzer Prize DL B-33600-2008 — ISBN 978-84-397-2094-2 / ​​PS 3554.I259 B7518 2008
A family chronicle spanning three generations and two countries, The Brief and Wonderful Life of Oscar Wao tells the story of fat, lonely Oscar de León on his quest to become the Dominican JRR Tolkien and his ill-fated search for love. But Oscar is just the latest victim of the fukú—a curse that has haunted his family for generations, condemning them to lives of torture, suffering, and unhappy love.
(Taken from: http://www.randomhouse.com/catalog/display.pperl/9780679776697.html)
the bridge / Hart Crane ; prologue, translation and notes Jaime Priede. — 1st ed. — Gijon: Trea, 2007. — 143 p. ; 17cm Spanish-English bilingual edition. Bibliography: p. 20 DL B 142-2007 — ISBN 84-9704-298-7 /PS3505.R272 B7518 2007
The Bridge, by Hart Crane (1899-1932), constitutes the last great attempt, in North American literature, to construct the myth of the Promised Land, that New Jerusalem in which men would enjoy the beatitudes of Heaven, predicted by Emerson and Thoreau. The symbol that Crane chose to embody this contemporary utopia was New York's Brooklyn Bridge, a masterpiece of human engineering, opened in 1883.
(Taken from: http://www.letraslibres.com/index.php?art=12177)
Hopper/Mark Strand ; translation and prologue by Juan Antonio Montiel. — 1st ed. — Barcelona: Lumen, 2008. — 112 p. : ill. ; 21cm - (Trial). DL B 16442-2008 — ISBN 978-84-264-1647-6 / ND 237 .H7 S77 2008
Thirty are the paintings chosen by Mark Strand to "evaluate" Hopper's pictorial art and gauge its impact on his own spirit and, in literary generalization, that of his contemporaneity, ours, given that the first original edition of the book appeared in the year 1994, according to the credits of the Spanish edition edited by Lumen. The paintings span a very wide time period, from 1925 to 1965, and include some of Hopper's most iconic, imitated and reproduced works, e.g. Hotel Room (1931), Gasoline (1940), Night Birds (1942) , or Philosophical Digression (1959).
(Taken from: http://www.ojosdepapel.com/Index.aspx?blog=825)
Politics of memory and memories of politics : the Spanish case in comparative perspective / Paloma Aguilar Fernández. — Madrid: Editorial Alliance, 2008. — 583 p. ; 23cm Bibliography: p. 543-583 DL M 25622-2008 — ISBN 978-84-206-6415-6 JC 599 .S6 A38 2008
Paloma Aguilar studies the policies of memory carried out during the Franco regime and democracy, and compares the Spanish experience with that of Argentina and Chile to analyze how human rights violations from previous times were addressed during the transitions.
(See more: http://www.elcultural.es/version_papel/LETRAS/23790/Politicas_de_la_memoria_y_memorias_de_la_politica)
Basic English grammar : with answer key / Betty Schrampfer Azar, Stacy A. Hagen. — 3rd. ed. — White Plains, NY: Pearson, 2006. — XV, 536, 6 p. ; 24cm + 1 Audio CD. ISBN 0-13-195734-1 /EP 1128 .A96 2006
Blending communicative and interactive approaches with tried-and-true grammar teaching, Basic English Grammar, Third Edition, by Betty Schrampfer Azar and Stacy A. Hagen, offers concise, accurate, level-appropriate grammar information with an abundance of exercises, contexts, and classroom activities.
(Taken from: http://www.powells.com/biblio/0131849379?&PID=23522)
More real than reality / W. Eugene Smith. — [Sl] : La Fábrica, 2008. — 237 p. : photo ; 33cm
DL M 26205-2008 — ISBN 978-84-92498-46-8 — NIPO: M-IIE / TR 647 .S65 2008
The Editorial Factory publishes a complete book on the work of photographer W. Eugene Smith, an exhaustive journey through the reports that went around the world. Along with the images, there are unpublished texts by Smith himself, where he clarifies his field methods and his photographic principles that allow him to make known his vision of photography and his way of understanding reportage. More real than reality has been awarded the M2-El Mundo Audience Award at the XI edition of PHotoEspaña.
(Taken from: http://literaturasnoticias.blogspot.com/2008/07/11-eugene-smith-ms-real-que-la-realidad.html)
Selected stories / Alice Munro. — New York: Vintage International, 1997. — XXI, 664 p. ; 20cm
ISBN 978-0-679-76674-2 /PR 9199.3.M8 A6 1997
Spanning almost thirty years and settings that range from big cities to small towns and farmsteads of rural Canada, this magnificent collection brings together twenty-eight stories by a writer of unparalleled wit, generosity, and emotional power. In her Selected Stories of her, Alice Munro makes lives that seem small unfold until they are revealed to be as spacious as prairies and locates the moments of love and betrayal, desire and forgiveness, that change those lives forever.
(Taken from: http://www.randomhouse.com/catalog/display.pperl/9780679766742.html)