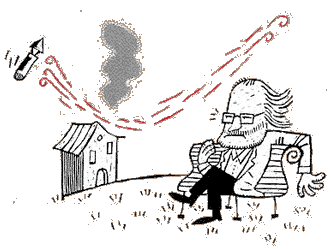 Posted: 15 December, 2008
Comments: No comments
The 5 of the week of Mercedes Sicilia (Student of English course of the IIE)
Monday / "101+19=120: poems" by Ángel González
Birthday
I notice it: how I am becoming
less certain, confused,
dissolving in the air
everyday, crude
shred of me, frayed
and broken by the fists
I understand: I have lived
one more year, and that is very hard.
move the heart every day
almost a hundred times a minute!
To live a year it is necessary
die many times a lot.
( Taken from http://amediavoz.com/gonzalez.htm)
Ángel González (Oviedo, 1925) is undoubtedly one of the greatest and most representative poets of the "Poetic Generation of 50". This volume contains one hundred and one poems selected by the author himself from his legendary work "Word on Word", as well as 19 unpublished poems. Ángel González won the Prince of Asturias Award for Literature in 1985 and the Queen Sofía Award for Ibero-American Poetry in 1996. In this same year of 1996 he was elected member of the Royal Spanish Academy.
(Taken from Publisher Viewer).
See also:
http://www.cervantesvirtual.com/bib_autor/AGonzalez/
http://es.wikipedia.org/wiki/%C3%81ngel_Gonz%C3%A1lez
http://www.elmundo.es/elmundolibro/2000/10/30/anticuario/972480700.html
The recommended titles are in the Library of the International Institute. If you are interested in reading this recommendation, you can check its availability at IIE library catalog.
101+19=120: poems / Ángel González; prologue by Luis García Montero. — Madrid: Viewer, 2000. — 227 p. ; 20cm — (Poetry viewer; 435).
DL M 23497-2000 — ISBN 84-7522-435-0 / PQ 6613.O489 A195 2000