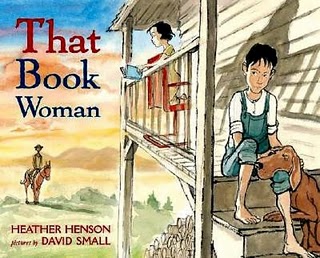 Posted: 26 January 2010
Comments: No comments
Featured news of the week
"That Book Woman" by Heather Henson and pictures by David Small
"Heather Henson's That Book Woman brings to life the story of the book women, more formally known as Pack Horse Librarians, one of Franklin D. Roosevelt's Works Progress Administration programs of the 1930s. Her writing style de ella is graceful and measured, and placing the narrative in Cal's vernacular gives the story a weight and emotional resonance that really sticks with readers, bringing them along with him as he discovers more than chicken scratch in those books.
Taken from imperfectparent.com
See also:
http://books.simonandschuster.net/That-Book-Woman/Heather-Henson/9781416908128/reading_group_guide
http://www.heatherhensonbooks.com/books.html
http://libr.org/ftf/bloomer.html
The recommended titles are in the Library of the International Institute. If you are interested in reading this recommendation, you can check its availability at IIE library catalog.
That Book Woman / Heather Henson; pictures by David Small. — New York: Atheneum Books for Young Readers, cop. 2008. — [36] p. : ill. ; 21cm
ISBN-1 4169-0812-9
PZ 7 .H46 T53 2008