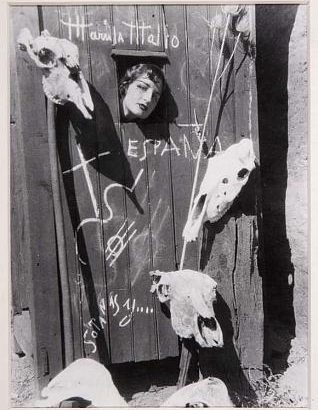 Posted: 29 January 2010
Comments: No comments
Cultural recommendation for the weekend
Exhibition on Maruja Mallo
"Dalí used to say that she was half angel, half shellfish. She has been linked to the Generation of 27 and the Surrealist Movement. But Maruja Mallo (Viveiro, 1902-Madrid, 1995) was much more than all that. Tremendous, meticulous, a woman of great character, her image is also linked to the modernity of the 80s. The San Fernando Academy of Fine Arts, of which she was a student, opens its doors for the first time to an anthology starring a woman. There are more than 140 works of hers that speak of her way of understanding art and the role she played in the artistic world. "
Taken from The country.
See also:
http://www.fundacioncaixagalicia.org/portal/site/WINS001/menuitem.e68f4f6c42b3dfc8015c7ec051d001ca
http://www.elpais.com/articulo/arte/Retrato/energico/Maruja/Mallo/elpepuculbab/20090905elpbabart_2/Tes
http://es.wikipedia.org/wiki/Maruja_Mallo
—
Date: From January 27 to April 4, 2010.
Hours: Tuesday to Friday: 10 a.m. to 14 p.m. and 17 p.m. to 20 p.m. Monday, Saturday, Sunday and holidays: 10 a.m. to 14 p.m.
Place: Royal Academy of Fine Arts of San Fernando (C/ Alcalá, 13. Madrid)
Price: Free entry.