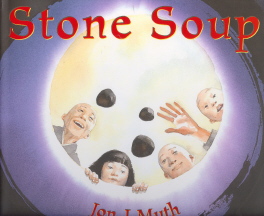 Posted: 3 February, 2010
Comments: No comments
Library Storytelling Morning activity for February
Come to the "tellebration" with us! Monthly Saturday morning meetings where kids can enjoy selected stories in English with Brian George (Oliver) as storyteller.
Recommended for children between the ages of 4 – 9. Two adults per child maximum. approx. 40 minutes.
Participation is free. Seating is limited; entrance is open until full capacity (35 kids per session). Register including children's name/s and your favorite session (11 / 12:30 p.m.) and wait for our confirmation reply.
February 2010 storytelling around the book:
"Stone soup" by Jon J. Muth
Saturday February 27th
at 11 a.m. – English Version (All in English)
At 12:30 p.m. – Bilingual Version (In English, using some Spanish to help understand)
"This rich story tells the story of Hok, Lok, and Siew–three monks traveling along a mountain road. The youngest monk, Hok (named after the Chinese deity symbolizing good fortune and prosperity), asks the question, "What makes one happy?", and finds an answer in a little village filled with people who have lost faith and trust in each other . Villagers kept to themselves and would not greet the three traveling strangers. Siew, the older and wiser monk, decide it is time to make "stone soup". This seemingly odd enterprise at first piques the villagers' curiosity, and it isn't long before the monks' modest suggestions for additions to the soup (salt and pepper, carrots, and so forth) stimulate a whole village to share in the making of the soup, and enjoy a feast after the rich soup is made. And so it came to be that "as each person opened their heart to give, the next person gave even more".
from edutainingkids.com
Recommended links for parents and teachers:
http://www.tlpeace.org.au/stories/stonesoup.htm