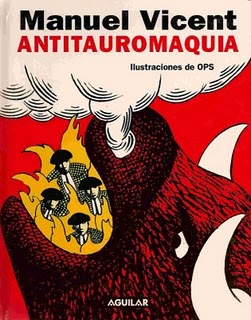 Posted: 16 February, 2010
Comments: No comments
The collection in use
"Anti-bullfighting" by Manuel Vicent and with illustrations by Ops
"When one has been born and raised surrounded by bullfights, bullfights and bull runs everywhere, one may believe that this barbaric custom is something natural, but there comes a time when a revelation is experienced. Manuel Vicent was also in his childhood and youth one of many Spaniards who enjoyed the national holiday, until one day he discovered his misery.
Taken from Lecturalia.
See also:
http://es.wikipedia.org/wiki/Manuel_Vicent
http://www.edestino.es/FichaAutor.aspx?IdPack=3&IdPildora=EXT147
http://es.wikipedia.org/wiki/Antitauromaquia
The selected titles are a sample of the materials currently on loan from the collections of the International Institute Library.
If you are interested in seeing or reading this recommendation, you can check its availability in the IIE library catalog.
Anti-bullfighting / Manuel Vicent; Ops illustrations. — 1st ed. — [Madrid]: Aguilar, 2001. — 198 p. : ill. ; 22cm
DL M 11778-2001 — ISBN 84-03-09245-8
GV 1108.5 .V56 2001