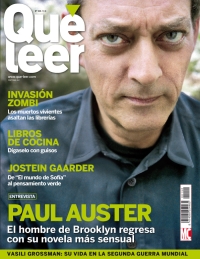 Posted: 17 February, 2010
Comments: No comments
New number received from: WHAT TO READ (nº 151)
Summary of this issue:
* The suicide of literature. From Quiroga and Plath to Foster Wallace, there are several writers who, out of romanticism or desperation, have chosen to leave before their time
*Tarzan, final chapter. Edhasa reaches the last episode of the King of the Jungle saga with the publication of "Tarzan and the castaways"
* Bandits and outlaws. Blume presents us with a collection of "Outlaw" subjects while Alpha Decay edits Bonnie&Clyde's love letters, Wanted lovers
*Roberto Bolaño, legendary author. The appearance of the unpublished "The Third Reich" (Anagram) leads us to delve into the myth of the Chilean writer, both here and in the United States
*Beautiful young vampires. PC and Kristin Cast go on the hunt for Stephenie Meyer with the saga of "The House of Night" (Pandora)
*We visited Matilde Asensi. In London, where the writer from Alicante perfects her English, and to talk about her new pirate novel, "Revenge in Seville" (Planeta)
*With Richard Price in New York. Born in the Bronx and screenwriter of The Wire, the writer knows firsthand the mean streets that he has portrayed in "The Easy Life" (Mondadori)
*Leopoldo Abadía, recipes against the crisis. The wise and folksy retired teacher tells us why "The time for the sensible" has arrived (Espasa)
*Lucía Etxebarria, "indie" muse. "The true is a moment of the false" (Suma), assures the writer from her last (musical) work
*Juan Cruz, journalism and literature. His award-winning "Egos revueltas" (Tusquets) undresses several greats from the world of letters.
*Sergio Vila-Sanjuán. The person in charge of the Cultures supplement of La Vanguardia launches into the novelistic arena with "Una heiress de Barcelona" (Destiny)
See also web page of the magazine
See numbers available in the Library of the International Institute