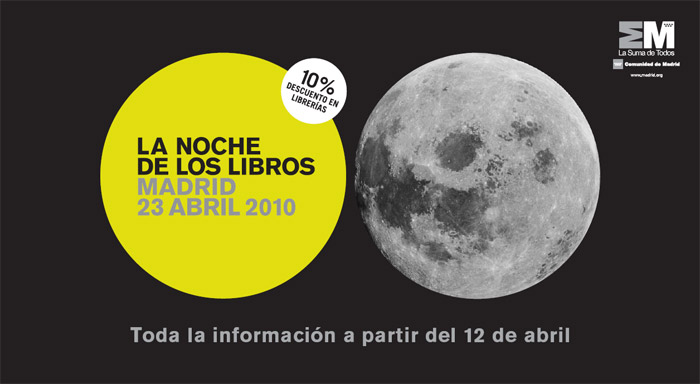 Posted: 9 April 2010
Comments: No comments
Celebration of Book Day at the International Institute within the framework of "The Night of the Books"
April 23 is the date on which "Book Day" is symbolically and internationally celebrated. The International Institute wants to celebrate and share the pleasure of reading by carrying out different events that will take place throughout the day.
This year for the first time we join the initiative of "The night of the books" that brings together an extensive program of conferences, debates, gatherings, meetings, music, readings, cinema, theater...etc. in institutions, centers and spaces of the city.
Agenda of the International Institute for Book Day:
18 p.m. Storytelling in English about the book "That book woman"
19.30:XNUMX p.m. Voices of Diaspora: Reading of poetry and stories by young Dominican writers
19.30:XNUMX p.m. Book presentation "Ecochic" by Margaret Fenwick
21 p.m. Live jazz music with "Solas Trio" and wine tasting
From 16 p.m. until 21 p.m. There will also be a children's and youth book fair in English, with a selection of books from the Scholastics publishing house at very affordable prices.
In addition, the results of the bookmark contest for schools organized by the English Department will be presented and the winners will be awarded.
The days before, the library will organize a reading marathon in Spanish and English together and a book release day through Bookcrossing through the building.
We wait!
See also:
http://www.madrid.org/lanochedeloslibros/
http://bibliotecaiie.wordpress.com/2010/04/05/special-storytelling-time-on-the-world-book-day/
http://www.espormadrid.es/2010/04/ecochic-pequenos-gestos-para-cuidar-de.html