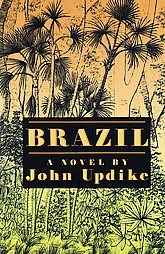 Posted: 9 April 2010
Comments: No comments
The collection in use
"Brazil" by John Updike
"Allusions to Tristan and Isolde dot Updike's fiction, poetry, and even nonfiction, so it is not surprising to find him reimagining their story as a novel. Surprisingly, he places them in the Brazil of the last three decades. His Tristan de el is a black beach boy, his Isolde the affluent daughter of a career diplomat; their mutual destiny begins when they meet on a Rio beach. Updike's Brazil, described with his customary scrupulous detail, is alien enough to provide a legendary landscape where the lovers must confront tribulations, endure separations and enslavement, survive deadly adventures, and rely on their love literally as their only sustenance. The rich prose is Updike's characteristic of him, but he achieves a tone suggesting that of both the medieval troubadours and the modern Latin American fabulists.
Taken from Amazon.
See also:
http://www.nytimes.com/books/97/04/06/lifetimes/updike-brazil.html
http://es.wikipedia.org/wiki/John_Updike
http://www.independent.co.uk/arts-entertainment/books/book-review–a-wild-holiday-romance-brazil–john-updike-hamish-hamilton-1599-1367364.html
The selected titles are a sample of the materials currently on loan from the collections of the International Institute Library.
If you are interested in seeing or reading this recommendation, you can check its availability in the IIE library catalog.
Brazil / John Updike. — New York: Alfred A. Knopf, 1994. — 260 p.; 22cm
ISBN-0 679-43071-7
PS 3571.P4 B73 1994