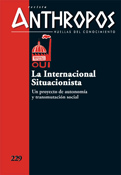 Posted: 3 January 2011
Comments: No comments
New issue received from: ANTHROPOS (nº229, 2010)
Summary of this issue:
EDITORIAL
*The Situationist International: a project of autonomy and generalized self-management, field of radical subjectivity. Life as an affirmation of a permanent social creativity
RESEARCH AND ANALYSIS PROCESS: THE SITUATIONIST INTERNAICONAL
INTELLECTUAL PERCEPTION OF THE SUBJECT
*The Situationist International today. Raoul Vaneigem
*Living thought for life: a reading of Vaneigem.
*International Situationist: concepts, history and experiences.
*Prologues.
*Bibliography of and about the Situationist International.
*Documentation.
*Chronology of the Situationist International.
* Workers Councils
ARGUMENT
* Situationist International: the last critical discourse of modernity. Cesar de Vicente Hernando
* The alchemy of happiness. Pol Charles
* The situationist space. Tom McDonough
*Raoul Vaneigem, subjectivity according to Spinoza. Cesar de Vicente Hernando
*Socialism or Barbarism and the Situationist International: notes on a "contempt". Bernard Quiriny
THEMATIC ANALYSIS
*The memory of the future: the judgments of the Situationist International on the art scene of the 1950s and 1960s. Fabien Danesi
*Asger Jorn's Vanguard Archives. claire gliman
*Strasbourg, autumn 1966. Beginning of the great gale of situationist criticism. Miguel Angel Garcia Calavia
*Do not live at the listed address. Yamina El Djoudi
*Drift theory. Guy Debord
*Debord in the noise of the cataract of time. Daniel Blanhard
LABYRINTHS: TRANSCOURSES THROUGH THE SIGNS OF SENSE
*Political project and the right to cultural diversity
Previous summaries in Dialnet
See also website of the magazine
See available numbers in the library