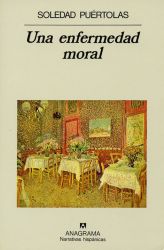 Posted: 25 January 2011
Comments: No comments
The collection in use
"A moral illness" by Soledad Puértolas
"The stories in A Moral Illness revolve around the possibility of adventure understood as an inner experience. Nothing as intense as that trance in which, as in an epiphany, we understand ourselves."
Extracted from the back cover.
See also:
http://www.epdlp.com/escritor.php?id=2615
http://www.soledadpuertolas.com/
http://www.elmundo.es/elmundo/2010/01/28/cultura/1264706859.html
The selected titles are a sample of the recently loaned International Institute Library materials.
If you are interested in seeing or reading this recommendation, you can check its availability in the IIE library catalog.
A moral illness / Soledad Puértolas. — 4th ed. — Barcelona: Anagrama, 1988. — 126 p.; 20cm — (Hispanic Narratives; 62).
DL B 20146-1988—ISBN 84-339-1762-5
PQ6666.U35 E5 1988
R. 66251