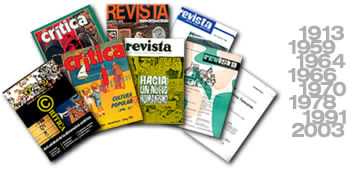 Posted: 28 January 2011
Comments: No comments
New number received from: Crítica (year LIX, nº970. November-December 2011)
Summary of this issue:
EDITORIAL
*Sustainable economy in the face of the crisis. Manuela Aguilera.
FROM MONTH TO MONTH. Nevis Saint Martin
NEWS
* What has Obama done wrong? carmen fernendez
MONOGRAPHIC
*Sustainable growth. Jose Antonio Garcia-Durán.
*Sustainable economy committed to the eradication of poverty and inequality. Pedro Jose Gomez.
*The labor market in Spain. Carlos Usabiaga Ibanez.
*The financial system: before and after the crisis. J. M Dominguez Martinez.
*The economics of education towards the approaches of a sustainable economy. Gerard Lassibille.
*What is degrowth? Carlos Taibo.
*Global Financial Governance: Opportunity or Chimera? Xoxe Carlos Arias.
* Need for ethics in economics. Antonio Argandona.
*The pillars of economic development: Competitiveness and productivity. Joseph L. Torres
OPINION
*Notes on the sustainable economy bill. Robert Bermejo.
*Economic and environmental sustainability in southern countries. Antonio Garcia Lizana.
* Ethical banking to transform the world. Joan Antoni Mele.
* Moral crisis - economic crisis. Consuelo Gámez Amián.
*Permaculture, a sustainable solution. Candido M. Neila Martin.
*Evolution of small and medium enterprises. What are the challenges of an SME to adapt to labor change and the crisis? Sergio Manzaneda Velasco.
USEFUL ADDRESSES. Esther Gonzalez.
COORDINATES
*The processes of recruitment and selection of personnel in times of economic recession. Manuel Angel Soriano Gil.
DECALOGUE
* The unsustainable economy. Joaquin Suarez Bautista.
TO KNOW MORE
LITERATURE
*Mark Twain: the young years of journalism. David Philip Arranz
BOOKS
*The dream of the Celt. Mario Vargas Llosa. Mary Simon.
* The spirituality to debate. The scientific study of the transcendent. Various Authors. Mª Rosa Elosúa de Juan.
*Zero tolerance. Juan Rubio Fernandez Aguinaco. Virginia Fernandez Aguinaco.
*Bereavement and children. Consuelo Santamaria. Virginia Fernandez Aguinaco.
*Light of the world. The Pope, the Church and the signs of the times. A conversation with Peter Seewald. Virginia Fernandez Aguinaco.
CULTURE AND FAITH: GLOSSY TITANIUM
*I confess my skepticism. Norbert Alcover.
THEATRE
*Microtheatre for money. Xavier Lopez.
*The Laws of love…and other laws. Maria Jesus Ramos.
CINEMATOGRAPHY
*Flamingo, flamingo. Sad trumpet ballad. Cecilia Garcia
TV
* Nice faces. Virginia Fernandez
SPORT
*A peak year for Spanish sport. Roberto Tamayo Pintos.
ART
*The Wurth Museum, a meeting place for art, industry and culture. Francisco Vincent Galdon
See also magazine website