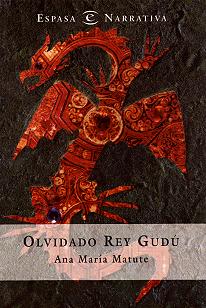 Posted: 14 February, 2011
Comments: No comments
The collection in use
"Forgotten King Gudú" by Ana María Matute
"Forgotten King Gudú is a novel by Ana María Matute published in 1996. Its author lists it as her favorite book among her works,[1] and it has been described as a «cult classic».[2] The novel has a medieval setting with elements of fantastic literature, chivalric books and fairy tales."
Extracted from the Wikipedia.
See also:
http://es.wikipedia.org/wiki/Ana_Mar%C3%ADa_Matute
http://www.elmundo.es/magazine/num113/textos/entrevista.html
http://www.clubcultura.com/clubliteratura/clubescritores/matute/obra.htm
The selected titles are a sample of the recently loaned International Institute Library materials.
If you are interested in seeing or reading this recommendation, you can check its availability in the IIE library catalog.
Forgotten King Gudú / Ana María Matute. — Madrid: Espasa-Calpe, DL 1996. — 865 p. ; 23cm — (Espasa Narrative).
DL M 37572-1996 — ISBN 84-239-7664-5
PQ 6623.A89 O4 1996
R. 77644