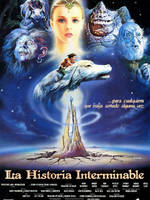 Posted: 16 February, 2011
Comments: No comments
The collection in use
"The Neverending Story" directed by Wolfgang Petersen
"Little Bastian is often looked down upon by his classmates. On one of his outings one afternoon, he walks into an old book store where he meets its owner, a very kind old man who lends him a magical book. Bastian flipping through that strange book, can not resist and hides in the dark attic of his school to read it. In this way, he enters a fantastic journey full of adventures, but is surprised to discover that he himself will become the hero of that story that seems to never end.
Extracted from the back cover.
See also:
http://www.filmaffinity.com/es/film575958.html
http://es.wikipedia.org/wiki/Wolfgang_Petersen
http://www.imdb.com/title/tt0088323/
The selected titles are a sample of the recently loaned International Institute Library materials.
If you are interested in seeing or reading this recommendation, you can check its availability in the IIE library catalog.
The endless story. [DVD] / a film by Wolfgang Petersen. — Colmenar Viejo (Madrid): Suevia Films, [1984]. — 1 DVD (91 min.) : son., col.
Languages: Spanish
Noah Hathaway, Barrett Oliver, Tami Stronach
Authorized for all audiences
ZW .P48 U5418 1984
R. 93208