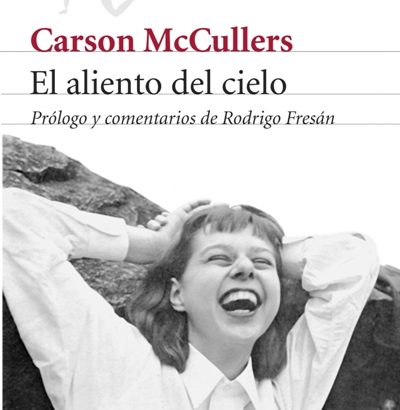 Posted: 21 February, 2011
Comments: No comments
The collection in use
"Breath of Heaven: Complete Stories" by Carson McCullers
"Carson McCullers conveyed with unsurpassed mastery the grandeur and tragedy of the human soul. His work has seduced generations of readers, while critics elevated it to the pedestal of the classics of the XNUMXth century. The breath of the sky includes all of his stories, thirteen of them unpublished in our language, and his three short novels, Reflections in a golden eye, The ballad of the sad cafe and Frankie and the wedding. Rodrigo Fresán enriches this essential edition with a revealing portrait of the unique life and work of McCullers. Through these pages travel love, violence, loneliness and failure."
Extracted from the back cover.
See also:
http://www.planetadelibros.com/el-aliento-del-cielo-libro-13129.html
http://es.wikipedia.org/wiki/Carson_McCullers
http://www.elmundo.es/elmundolibro/2002/02/10/anticuario/1013112952.html
The selected titles are a sample of the recently loaned International Institute Library materials.
If you are interested in seeing or reading this recommendation, you can check its availability in the IIE library catalog.
Heaven's Breath: Complete Stories / Carson McCullers; prologue and comments by Rodrigo Fresán; English translation by Jose Luis Lopez Muñoz and Maria Campuzano. — Barcelona: Seix Barral, 2007. — 540 p. ; 24cm — (Formentor Library).
Contains: Reflections in a golden eye; The ballad of the sad coffee; frankie and the wedding
DL M 31827-2007 — ISBN 978-84-322-2820-9
PS3525.A1772 A1518 2007