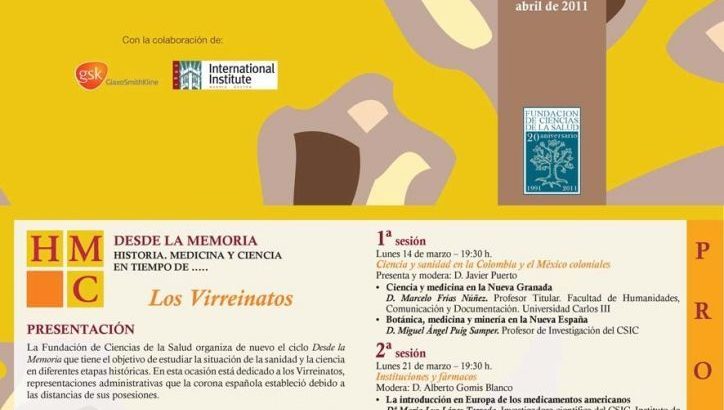 Posted: 10 March, 2011
Comments: No comments
Conference on "Science and health in colonial Colombia and Mexico"
Next Monday, March 14 at 19:30 p.m. The first session of the cycle of conferences "From memory: history, medicine and science in the time of the Viceroyalties" organized by the Health Sciences Foundation will take place in the Auditorium of the International Institute.
The session called "Science and health in colonial Colombia and Mexico" will be presented and moderated by D. Javier Puerto and will include the following communications:
-"Science and medicine in New Granada". Given by D. Marcelo Frías Núñez. Associate Professor. Faculty of Humanities, Communication and Documentation. Charles III University
-"Botany, medicine and mining in New Spain". Given by Mr. Miguel Ángel Puig Samper. CSIC Research Professor
The Health Sciences Foundation once again organizes the cycle "From Memory" which aims to study the situation of health and science in different historical stages. On this occasion it is dedicated to the Viceroyalties, administrative representations that the Spanish crown established due to the distances of its possessions.
In the case of the Indies, the Viceroyalties of New Spain, Peru, New Granada and the Río de la Plata developed from the XNUMXth century. Although some have been known to the public for their magnificence, less is known about the scientific and health advances that were carried out in their territories. Historians of science will analyze these advances in an expeditionary trip around what today constitutes the Latin American and Caribbean regions.
Free entry until complete seats.
See also:
https://www.iie.es/noticias/Diptico%20DESDE%20LA%20MEMORIA.pdf